What a thriller in Lenzerheide! Danny Hart (GBR) wrote history in front of thousands of spectators, when he crossed the finish line just a split second ahead of Aaron Gwin (USA). Everything was pointing to another sensational win for the American, but Hart pulled off a bit of magic in the last section of the course to celebrate a well deserved first ever win on the UCI Mountain Bike World Cup in Lenzerheide. It was a hugely successful day for the Brits in Switzerland, which also saw Rachel Atherton add to her win count and celebrate her eleventh victory in a row. French athlete Myriam Nicole had a fantastic comeback after an injury on her first World Cup competition of the season and came in third.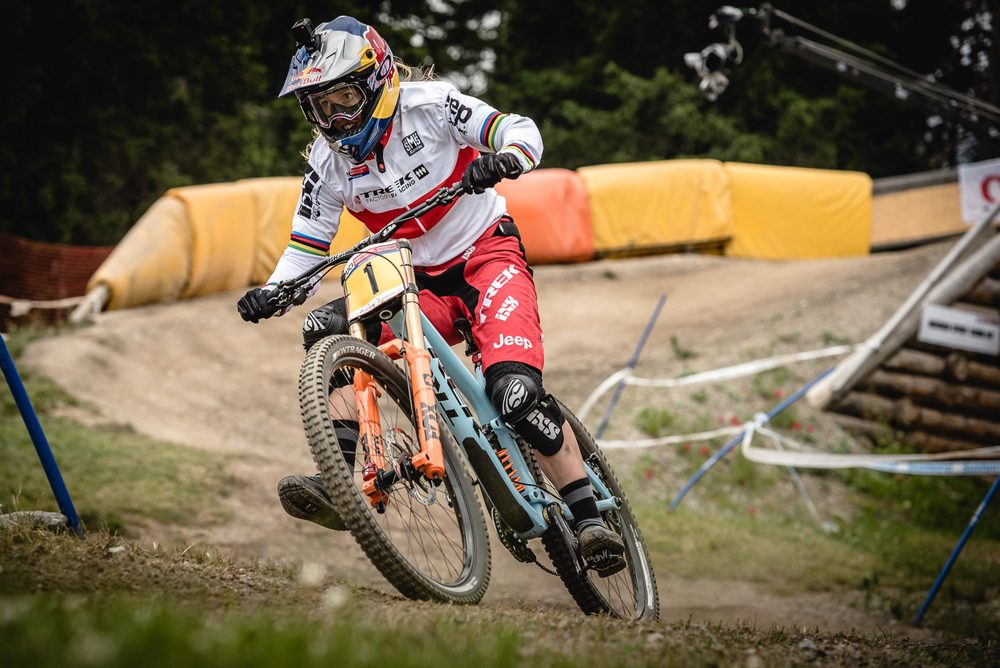 Rachel Atherton
A day to remember: Danny Hart wins in the blink of an eye
It doesn't really get any better than this. The 2nd edition of the UCI Mountain Bike World Cup in Lenzerheide came down to the absolute last second. The track was fast and slippery due to an extensive amount of dust. The pros pushed themselves to the limit and made the crowd go mental along the STRAIGHTline running through the Swiss Alps. Aaron Gwin went all in on his run, despite a crash in qualifying yesterday. His courage paid off, when he crossed the finish line at the Rothorn station, stunning the crowd and smashing Brendan Fairclough's time by over five seconds. The Californian made himself comfortable in the hot seat, since the following riders all came short. Last year's winner Greg Minnaar (RSA) surely made Gwin slightly edgy, when he blasted down the course. The South African however lost time in the last section and was not able to push Gwin from first place. It was all up to Danny Hart. The Brit, who won the qualifying the day before, sped down the course, but was behind Gwin in all of the first three splits. Nearly a second behind, he charged into the last split section. The suspense in the finish area mounted. Was Danny Hart still in with a chance to win his first ever World Cup event? He was! Thousands of fans exploded, when the finishing split time lit up on the board: – 0.096! A historic day for the World Champion from 2011 came to an end.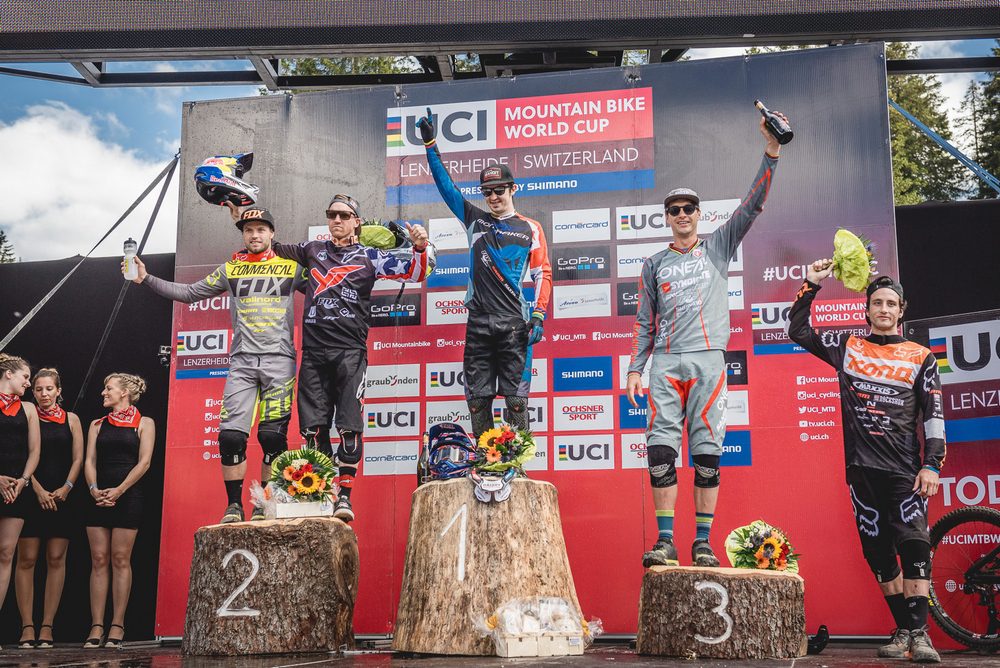 Elite men podium
Danny Hart:
Look at how close it was! It's taken me all these years of being up there quite consistently. I wish my parents were here to see it. It's awesome.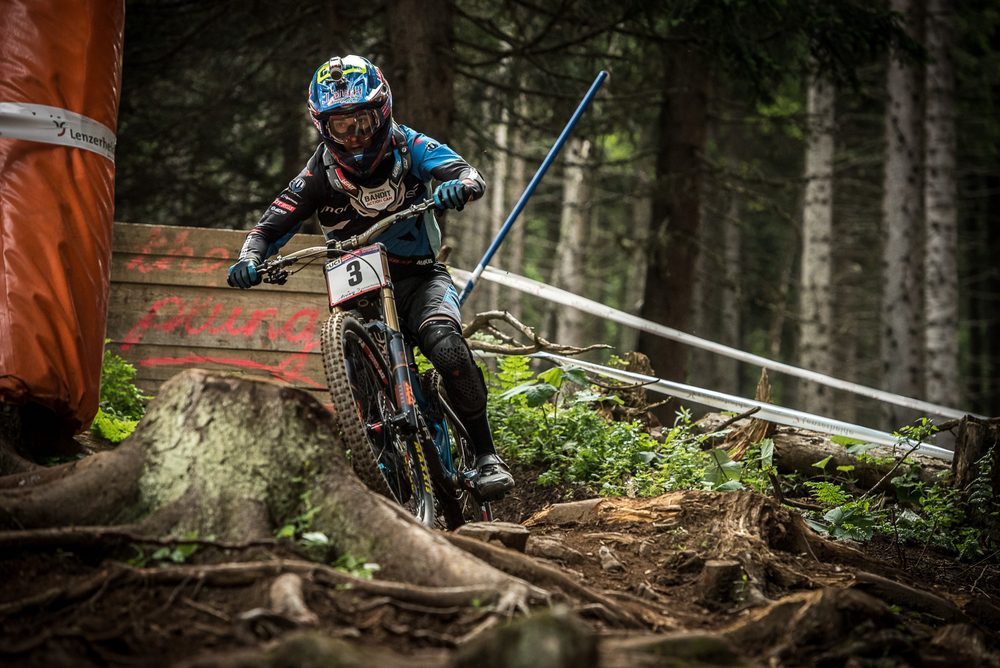 Danny Hart
Atherton wins number eleven – Siegenthaler makes Switzerland proud
It was a fantastic day for the women's racing as well. Swiss hope Emilie Siegenthaler, sped over the finish line after 3:42.461 minutes and was greeted by an overjoyed home crowd. Reaching the bottom healthy and in one piece was special for the Swiss national after two consecutive years of tough luck. The time however also proved to be a difficult one to crack and with every athlete reaching the bottom the hopes for a Swiss win grew and grew. It was Manon Carpenter (GBR), who smashed all the wishful thinking in the end, thanks to an impressive run, which put her in first place. After Tracey Hannah crashed in her run, there was only one non-British national up at the start. In her first World Cup appearance this year Myriam Nicole was able to cope with the pressure. Her impressive run secured her the lead for the time being, and resulted in her breaking up a, what would have otherwise turned out to be, all Brit podium.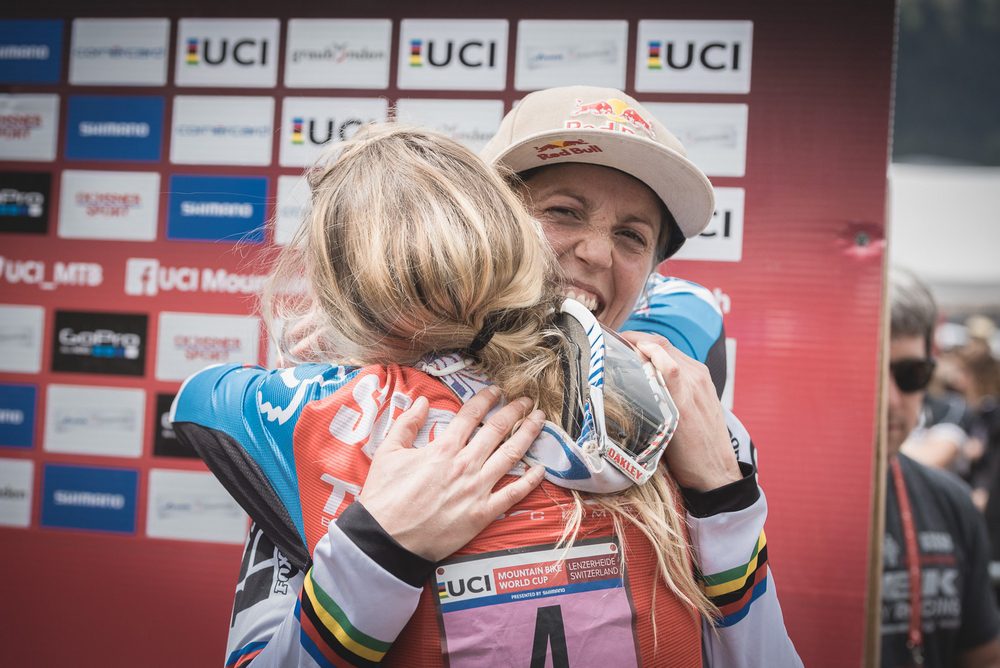 Rachel Atherton & Tahnee Seagrave
Myriam Nicole:
The podium is a good way to come back. There are two, three more important races to come and I look forward to doing better.
The last two in the start-gate, Rachel Atherton and Tahnee Seagrave, put on a great show. After a difficult qualifying run on Friday the dominant figure in women's downhill mountain biking bounced back as if nothing had happened. Thanks to a 3:33.859 minute long run Atherton was set on the path of victory once again. Seagrave risked everything, but came in just short by 0.707 seconds, cementing Rachel Atherton's winning streak, which is now extended to eleven in a row.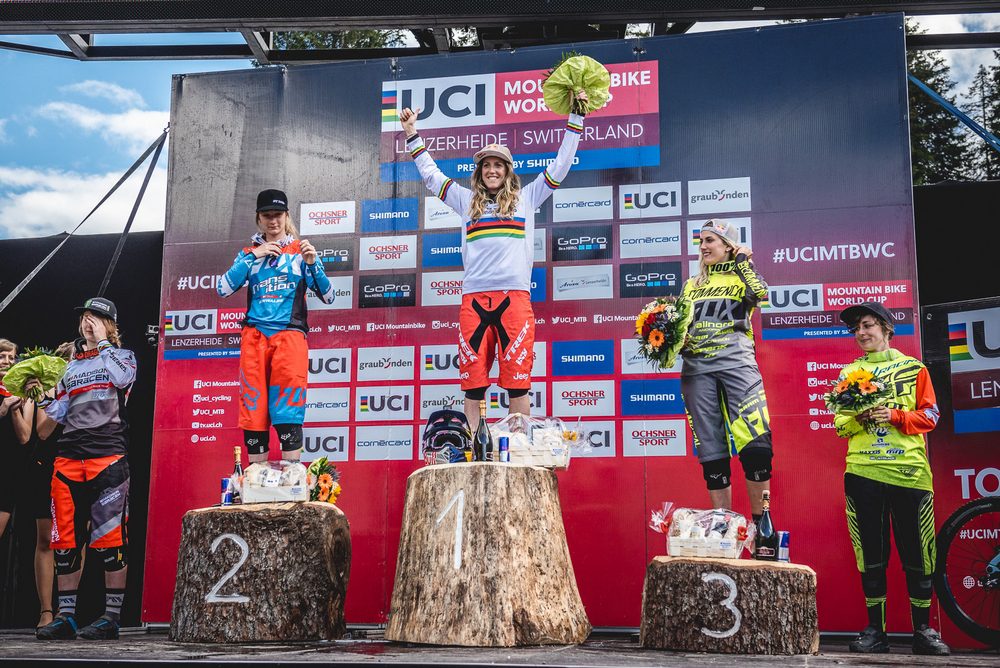 Womens podium
Rachel Atherton:
The track here in Lenzerheide is really hard for me. I really struggled. I knew, I would have to find some lines and I had a good practice this morning. It was obviously going to be close. It's so much more exciting watching at the bottom, than being the last rider on the hill. It's crazy. Tahnee was so close all the way and I just pipped her – really exciting.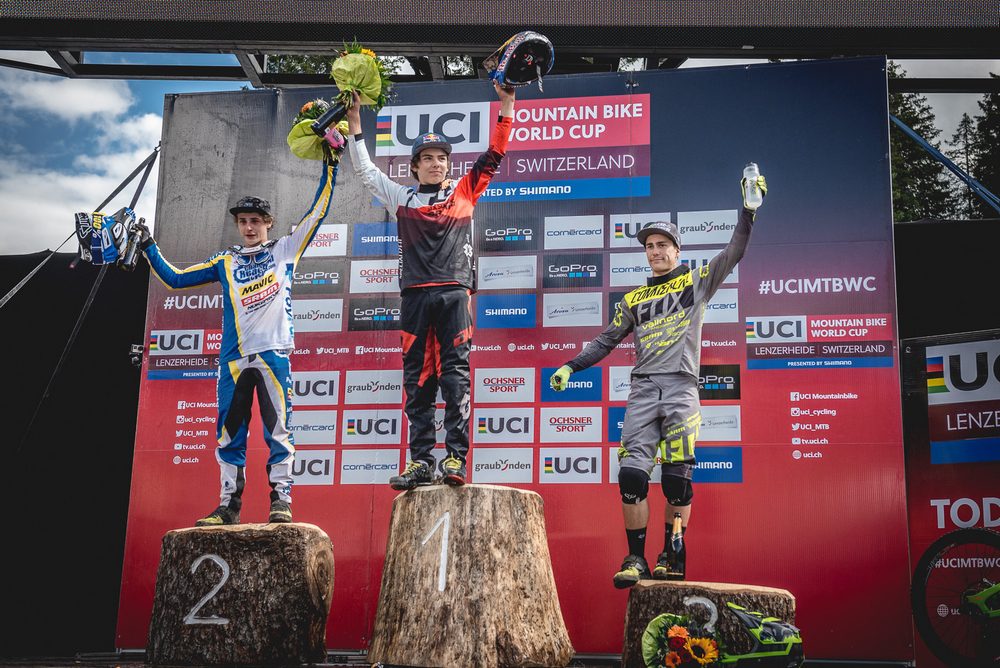 Juniors podium
Canadian Finnley Iles wins junior race in Lenzerheide
The only sixteen year old Finn Iles was the fastest junior on the 2.2 kilometre / 1.3 miles long track in Lenzerheide Bikepark and therewith underlined once more, that he has a bright future ahead of him. He won his third World Cup race of the year with a 2.636 second lead and was followed by Brit Elliott Heap and French Gaetan Vige.
—
Further information: mtbworldcup-lenzerheide.ch
Information about the region: lenzerheide.com/en
Photos: Dave Trumpore