Croatia as a typicall holiday destination is becoming more and more popular place for biking trips. It's mainly because we will find there a lot of wild technical trails on the natural rocky terrain. If someone likes riding on rocky singletrails, than he will definitely find a lot of possibilities there. But what if we want to ride some flow trails also? The answer will be Bike Park Rabac, which is located in the northern part of Croatia.
How did we find ourselves there?
We got there for first time in December 2018, but we liked it so much that we also went there on May 2019! During our first visit, despite the use of e-bikes, due to the short day we could not check the full potential of the place. And what's more, the Bike Park is expanding and in May already we could test another completely new trail!
First impressions:
When arriving in Rabac, we have to pass the town and go to the peninsula where there is a complex of hotels and apartments. Bike Centrum, and Bike Park is an investment of the Valamar company which owns a network of hotels and campgrounds throughout Croatia, but what is important, access to the park is free and available for everyone. Investing in the development of biking tourism the Valamar company also thought about specially prepared accommodation, thanks to which three of five hotels in Rabac are marked as cyclist-friendly. They have a special bicycle storage rooms, a washer for bikes and basic tools for small service. There are also offers of washing Your dirty bike clothes or relaxing massages after a day's ride. When we are arriving at the bike trails, we firstly get to the bicycle center. There is a well-equipped bike shop, and a professional service. We can also rent some e-bikes or traditional mtb full suspension bikes, hardtails and also more recreational bikes, for example with installed seat for a child. Also we will get here full information about the trails in bike park and surroundings, and we can arrange a guided bicycle tour or some training. There is also a chill out zone in which you can relax and drink something cold in the shade. In a word, the level of preparation of everything especially for bikers is really impressive!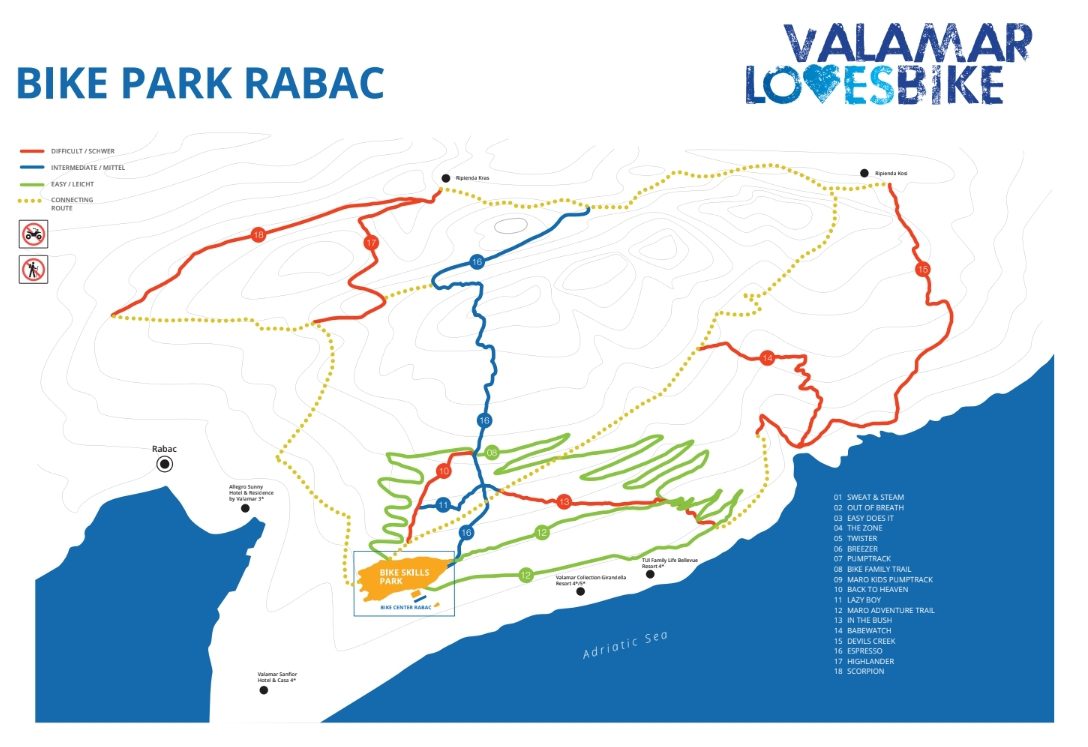 Skills Park:
Right next to the parking lot and the main info center there is an area that will be perfect for warming up and learning new skills on the bike. It has 2 pumptracks and 6 very diverse but short trails. Main point is pumptrack in the shape of a loop, and right next to it there are several different trails located on a small hill amid the forest, which will provide us with a bit of shade in the summer days. To get to the top of skills park we can climb gently winding between the trees trail No. 1 called "Sweat & Steam" or a more difficult variant with partially natural obstacles "Out of Breathe". After a short climb we have different variants of short downhill runs:
"Easy Does It" – A very gentle trail that will allow everyone to go down safely thru couple of easy corners.
"The Zone" – This is a typical Flow Trail, like a twisted path, which has been enriched with profiled berms and very easy rollers, thanks to which we can smoothly go down at a good speed
"Twister" – A short and difficult trail, it is going steeply down the natural terrain, among typical Croatian stones and roots.
"Breezer" – Another typical Flow Trail, but on it we will fing the profiled berms, some larger rollers for pumping and also small jumping tables on which we can practice our technique of jumping on a bike.
Personally, I was very impressed with this part of bike park and it turned out to be a very nice place to train my wife, who is a beginner when it comes to more advanced riding down. I also had a great time there, getting to know my rented e-bike. Obstacles are very well thought out and allow us to try a little bit of everything. There is also second smaller pumptrack especially designed for the youngest cyclists.
Other trails:
Straight from the parking lot and the bike center we can go on "Maro Adventure Trail". This is a typical family trail that absolutely everyone can handle. It is wide, and easy all along its entire length, with very gentle ascents / descents. An additional attraction / motivation for the youngest are special stamps to be completed along riding it. In summer, by this route we can also go straight to the beach.
After some warm-up in Skils Park, from the top of it we can go to the upper part of the bike park. We can take one of two variants of natural single trails called: "Back to Heaven" or "Lazy Boy". Now there is also tottaly new "Family Trail", which is nice and easy flow trail with shaped berms, but with very gentle ascent and descent. With it we can go on last part of easier "Espresso", or go for a more demanding ride on "Into the Bush". That second one is longer and definitely more difficult. On the way we will have a typical Croatian terrain, and that is a lot of rocks, stones, some roots, and also small drops. Despite the fact that the terrain we ride on is a rather good challenge for us and for our bike, but the trail is really well thought out and the ride is surprisingly with good flow.
To reach the next trails, we have to climb a gravel road to Ripenda Kosi. The first one that we will pass by will be "Babewatch" and it is in my opinion the best trail in the whole bike park. Start of this trail is at the edge of the forest, but after short segment in the woods we will go thru open area with a beautiful view of the sea and its surroundings in the background. We can catch there some speed, but after the turnn again we enter the forest, where it is more tight and technically terrain. A very interesting course which is very diverse, and full ride with good speed takes more than 3 minutes. The terrain that we ride on is of course natural, but in a few places is shaped to keep it smooth, and here and there some small jumps or drops. Sometimes you have to pedal a bit for a short uphill, but the trail along the entire length will give us a lot of fun.
The next trail is called "Devils Creek" and it is long one and with awesome views. The beginning is on the sidelines of the village of Ripenda Kosi, and it is traversing the slope on which we descend practically to the sea level. It is a fully natural singletrail that runs along an old path through sun-bathed meadows. Also on this route there are some short climbs, and the terrain requires good technical skills from us, but there are also some parts where you can get more speed.
In Ripenda Kosi, we can also turn into a narrow asphalt road and climb even higher to the next downhill tracks. The "Highlander","Scorpion" and completely new one "Espresso" is waiting for us there.
"Espresso" is the most promoted trail in whole Bike Park. We have to climb pretty high to it, but it is compensating with the amazing views. It begins with a natural path. Some short downhill, then a little climb and the proper flow trail begins. Quite narrow but nicely smoothened trail. First it is traversing a small peak, and after a while we are reaching to side of hill, from which there is an amazing view of the sea, the town of Rabac, and the whole area. The trail winds very gently downwards and thanks to its smoothness it allows to go with a quite high speed. The turns are very slightly shaped into berms, but thanks to good grip we can also go a little crazy there. It is marked as a trail for intermediate cyclists, but even whole families with children was going by it, enjoying the views. With the trail we can go back straight to Skills Park, but lower down we can also choose the new Family trail, or a more difficult variant of "Into the bush".

To find yourself on this pretty large area practically all cross roads has visible arrows that point us direct to begining of trails, and in the main points there are always large and clear maps. In addition, these trails also can be shown on the "Trailforks" smartphone application, which I highly recommend, especially when exploring Croatia on a bike.
In addition, when it comes to a more tourist cycling, there are still over 200 km of different cycling routes in the surrounding area. So we also went on a trip to discover the atmosphere of the nearby Croatian small towns. Due to the limited time, we decided to take a trip on e-bikes, thanks to which in less than 2 hours we have made over 30 km and visited Labin and Sveta Marina.
Summary
Bike Center Rabac is a great complex of enduro-type trails. Even though the hills here are not so high or stunning, the trails can get us really tired! In May we spent there full two days on riding, and still it wasn't enough to try every possibility.
The place itself made a very good impression on us. You can see that the trails are well built by people who really know how to do it. Skills Park is an ideal place for training and improving your skills. My wife really enjoyed learning there, but also I was having a great time there too. The other natural trails are a big challenge both for our condition and technical skills. Croatian stones are also merciless for the equipment, so let's remember about the largest possible tires and even with them pump it to a higher pressure. Bike Park Rabac is a relatively new place and, of course,has plans to further develop a network of specialized enduro trails.
Of course, at this moment, you can find a lot more developed bike parks. But if you're going on holiday to Croatia, maybe it's worth taking a bike with you. And even if you do not have such a possibility, you can always rent a good bike on the spot and do something more interesting than just lying on the beach. This is really perfect place to combine vacation with biking! Thanks to nice adriatic climate, you can also extend your bicycle season as the paths are open all year long!
Here is our edit from December of 2018: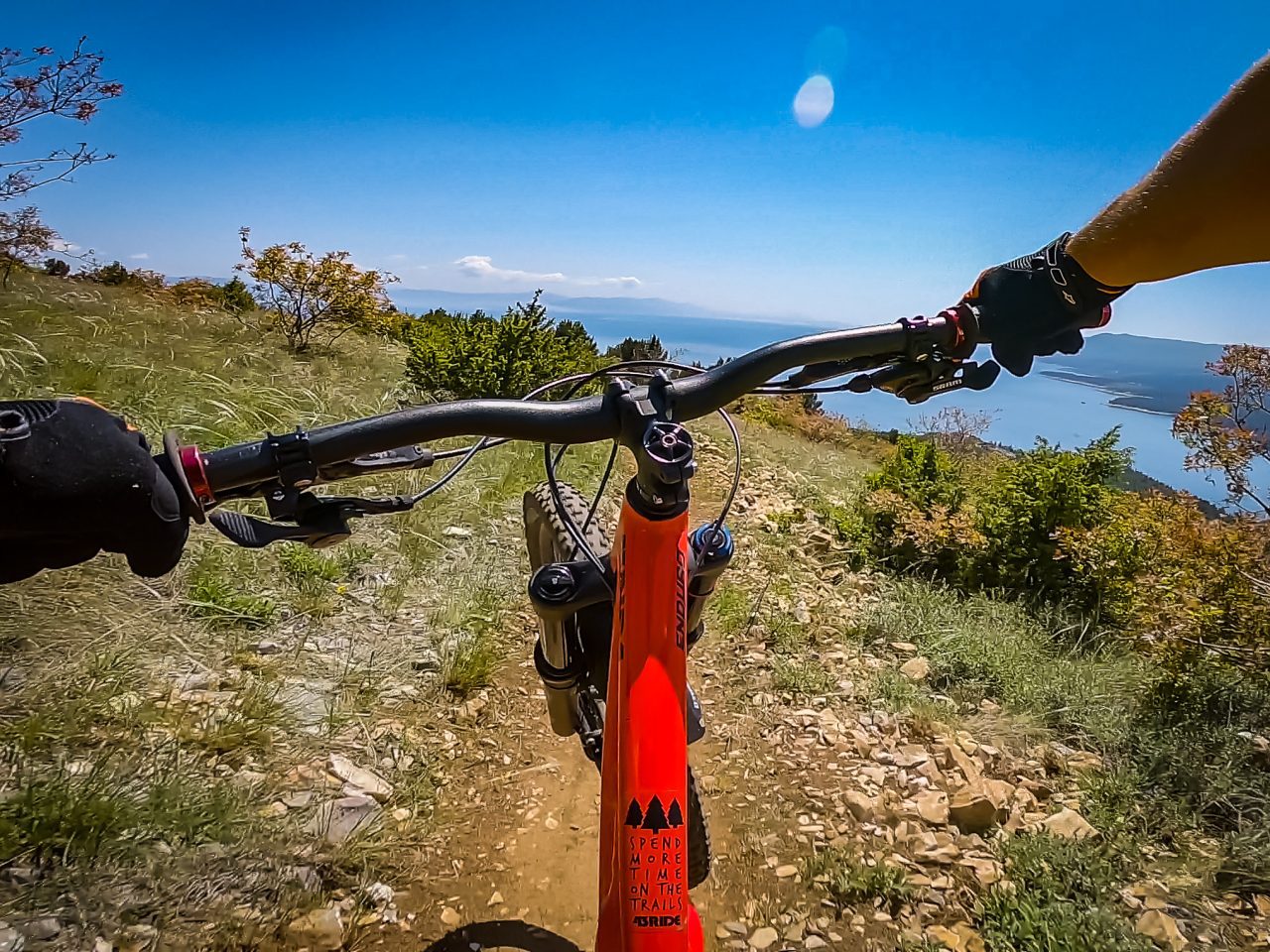 Practical tips:
Riding trails in the bike park is free of charge.
Info center and part of the trails is located at the very end of Rabac, in the tourist complex Valamar, but area is open to the public.
Valamar Bike also has accommodation with a variety of standards prepared for cyclists, as well as training camps and organized bicycle trips.
Bicycle wash is available on site, as well as professional service and a rental of different bikes (trekking, MTB Hardtails, MTB full suspension, or even e-bikes).
A large car park which is located next to the info center, in the off season was free, but in the high summer season probably will be paid.
In the summer holiday season there will probably be a special shuttle bus, which will be running 2-3 times during the day and transporting bikers to the highest part of the complex, which can save us a lot of time and strength
On the spot it is possible to organize trips for larger groups of various types, from training, through trips to the park and the surrounding area, to longer trips lasting several days.
For more information about Bike Park, please visit valamar.com/en/hotele-rabac/valamar-girandella-resort/bike-center-rabac and facebook .com/bikecenterrabac.
For more information about what else interesting you can find in the area, please visit our blog: Balkanyrudej.pl
The article was made in cooperation and with the support of Valamar company. Thank you!
Text: Marek Chabros
Photos: Marek Chabros & Ola Zagórska-Chabros