Leatt Corporation, a developer and marketer of protective equipment and ancillary products for many forms of sports, especially extreme high-velocity sports, announced today that the all new Leatt DBX 3.5 neck brace won an award at the prestigious Eurobike International Bicycle Exhibition and at Interbike, the largest bicycle industry trade event in North America.
Sean Macdonald, Leatt CEO:
Years of research, development, and testing has finally paid off. We are very pleased to announce that we have once again won two of the cycling world's most coveted and prestigious industry awards. Using advanced engineering and manufacturing techniques that included combining an in-molded EPS construction with a polyamide core similar to what is found in high-performance bicycle helmets allowed us to reduce both weight and cost for the benefit of thrill-seeking gravity riders worldwide.
Eurobike Award Jury:
This very lightweight design now places a key item of safety equipment within an attractive price range.
Interbike International Bicycle Exposition is the largest bicycle industry trade event in North America and their awards are aimed at recognizing excellence and innovation in product, retail and advocacy.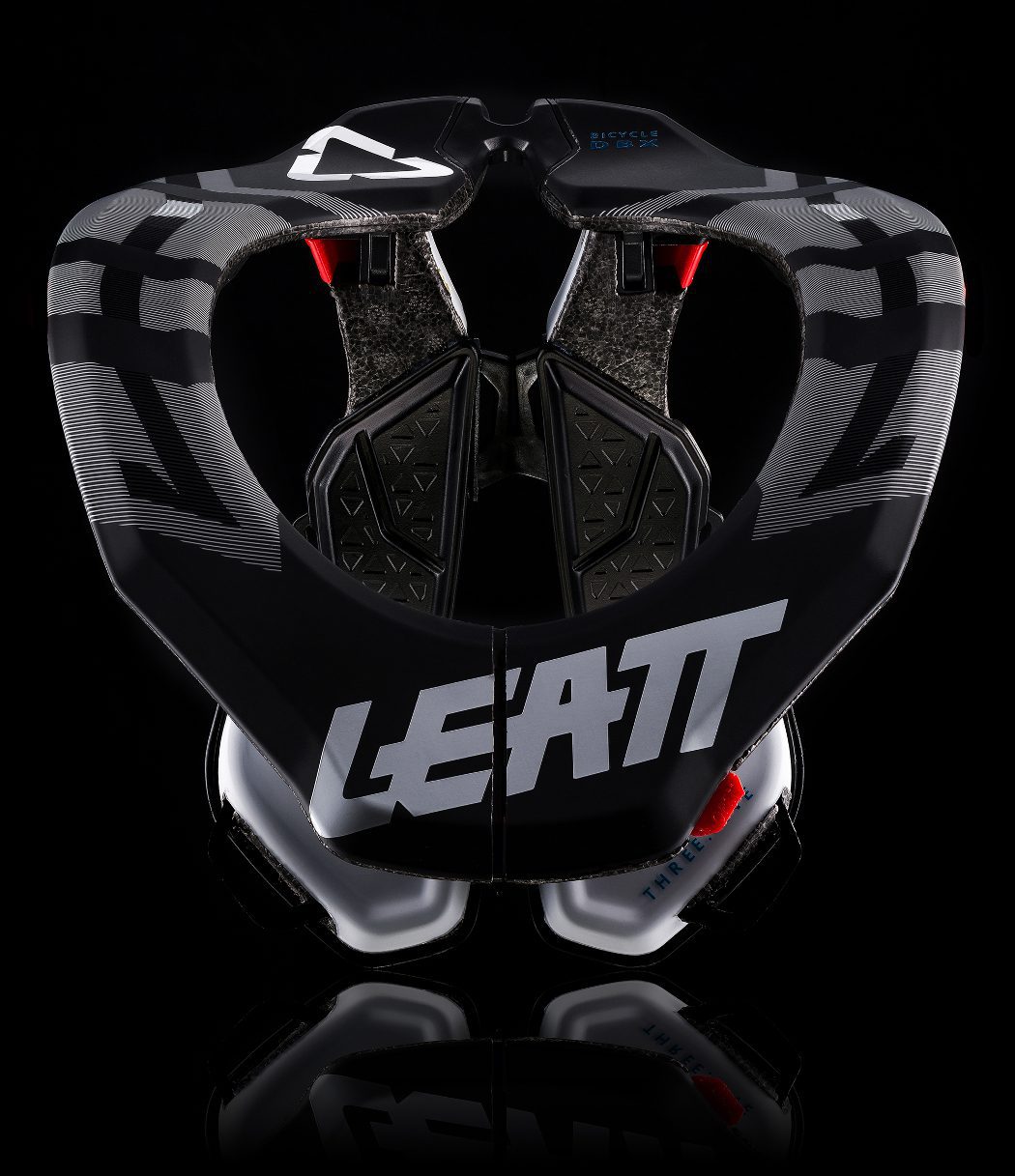 The Leatt DBX 3.5 Neck Brace is the lightest neck brace in the Leatt range, approximately 30% lighter than the existing 5.5 models. It is also the most cost-effective Leatt neck brace ever at an entry-level price point of RRP 279,-€/US$ 249.99 (adult sizes) / 229,-€/US$199.99 (junior) – and both of these models will be available in store from first quarter of 2018.
Dr Christopher Leatt, Chairman of the Board:
I am extremely proud of Leatt's team of dedicated biomedical engineers, designers and developers that strive to enable more riders globally to push through their limits with exceptional innovative protective gear.

While Leatt's 5.5 and 6.5 neck brace models do offer a more custom fit than the new 3.5 brace, the semi-rigid chassis still has enough adjustment to fit most riders' body shapes. As with all Leatt neck brace models, the DBX 3.5 is CE certified as Personal Protective Equipment and has been lab-tested and proven to reduce neck forces, lowering the chances of a serious neck injury.
The European launch of the 2018 gear line and the new award winning Leatt DBX 3.5 neck brace will be on display at the Eurobike International Bicycle Exhibition in Friedrichshafen, Germany, August 30 – September 2, 2017 (Booth B4-204). The North American launch will be at the Interbike International Bicycle Exposition at the Mandalay Bay Convention Center in Las Vegas, September 20 – 22, 2017 (Booth 24243). More detailed product information can be found on recently relaunched leatt.com.
About Leatt Corporation:
Leatt Corporation develops personal protective equipment and ancillary products for all forms of sports, especially extreme motor sports. The Leatt-Brace® is an award-winning neck brace system considered the gold standard for neck protection for anyone wearing a crash helmet as a form of protection. It was designed for participants in extreme sports or riding motorcycles, bicycles, mountain bicycles, all-terrain vehicles, snowmobiles and other vehicles. For more information, visit: leatt-corp.com.