Current Freestyle Mountain Bike world champion Emil Johansson (SWE) put down six never before landed tricks during the Suzuki Nine Knights MTB Contest, at Reschenpass in South Tyrol, Italy, to win the Slopestyle Bike category. In the last 25 minutes of a 99-minute jam format contest, Johansson landed an array of new flip combinations to beat Italian Diego Caversazi, whose Frontflip Superman and Cash Roll on the Sendolf Kicker earned him second place. As Diego and Emil pushed each other and the possibilities of technical Slopestyle biking to the extreme, most other athletes decided to participate in the Downhill / Big Bike Category, so there was no third participant to round out the podium.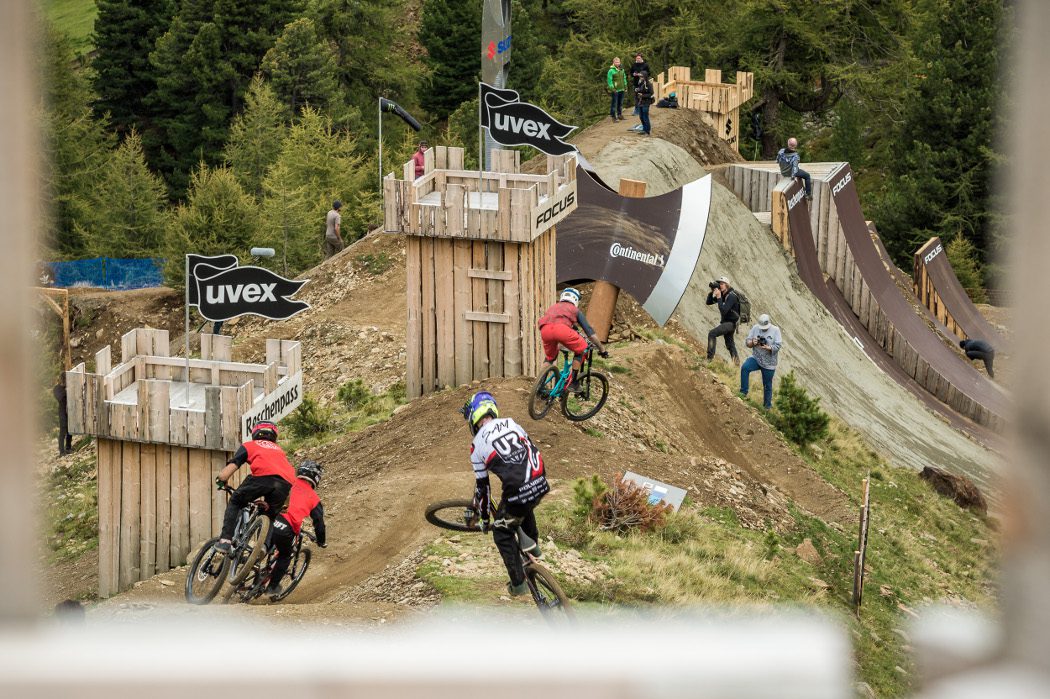 photo: Klaus Polzer
Emil Johansson:
It's been an awesome week and taking 1st place is just the icing on the cake. I never get to hit jumps that big outside of contests, so it was great to be able to try new tricks, especially with the airbag. I landed a few world firsts and I am definitely happy with that.
Johansson's world first tricks are:
Flip Whip to Bar to Table Top
Flip Quint Bar Spin (five bar spins)
Flip Bar to Tuck to Bar to Can Can
Flip Double Bar to Tuck to Bar
Flip Triple Bar to Tuck
Flip Triple Bar to Can Can
Meanwhile, Brit Sam Reynolds, who served as course designer for the last two editions, took first place in the downhill bike category, besting Nico Scholze (GER) and Clemens Kaudela (AUT). Reynolds performed a "Flintstone" and a "Superseat" on the Sendolf Kicker with his Big Bike, sent a massive Quarterpipe air, and sped down the huge Big Bertha line in style.
Sam Reynolds:
It feels great to win the contest, but as course builder, I'm especially happy that it went well and that everyone enjoyed it. The week at Suzuki Nine Knights is always special; we ride together, we're not competing but working together to make amazing videos and photos.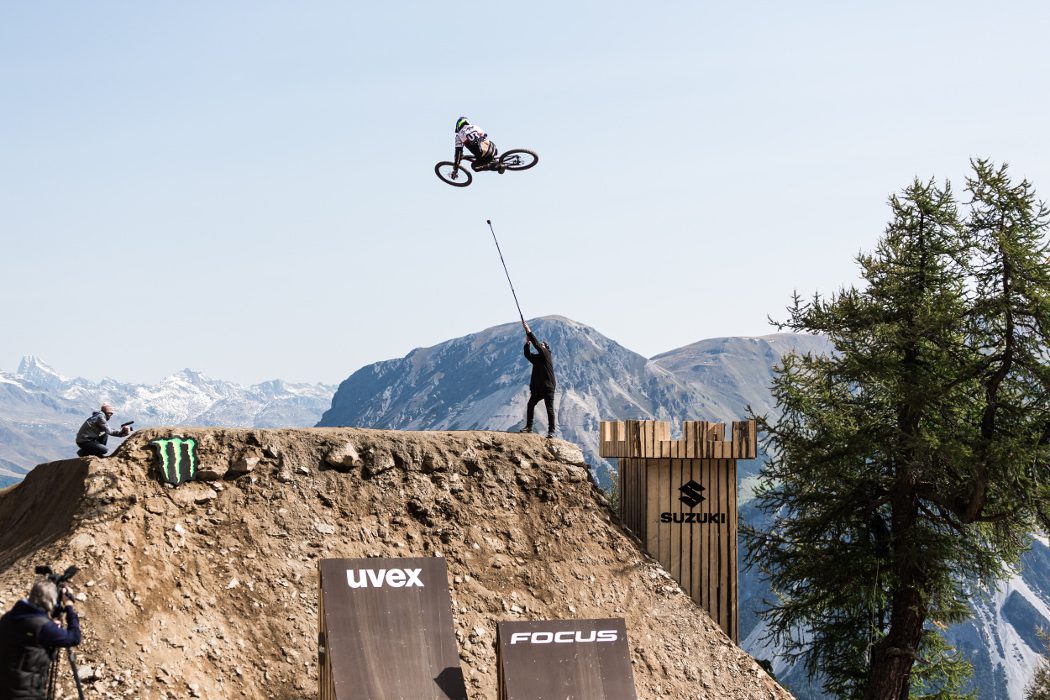 Sam Reynolds / photo: David Malacride
Following close in second place, Nico Scholze put down a "Flatspin Nac" and a "Backflip Tsunami" on the Sendolf, as well as a huge "Backflip Heel Clicker" on the Big Bertha kicker. Clemens Kaudela's Big Bertha Line combos, a "Flip Tuck", not to mention a huge Quarterpipe air helped earn the Austrian course builder a well deserved third place.
These incredible accomplishments round out a week of outstanding athlete driven progression, which have pushed the limits of freeride mountain biking. Most notably, last year's FMB world tour champion, Nicholi Rogatkin (USA) landed a never before done "1080 Twister" on a downhill bike, besting his world's first Cashroll on a downhill bike at his first Suzuki Nine Knights MTB appearance in 2015. Additionally, podium finishers Sam Reynolds and Clemens Kaudela both broke Kaudela's previous record for highest air out of a Quarterpipe, with Reynolds edging 20 cm higher than his fellow course builder.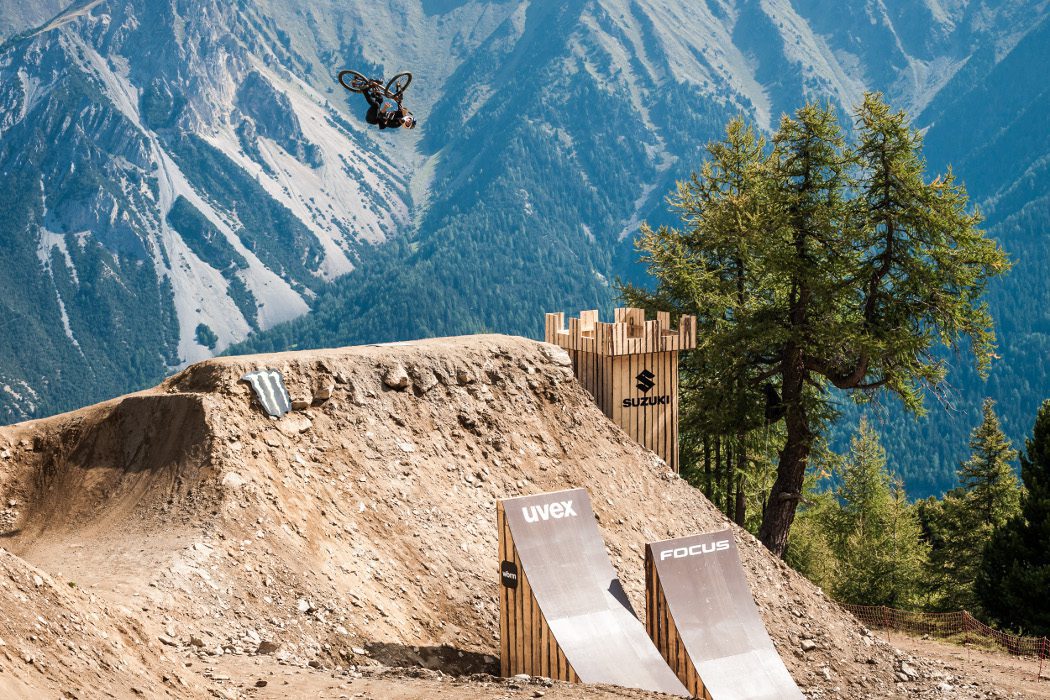 Emil Johansson / photo: Klaus Polzer
*Suzuki Nine Knights MTB has and will always be an event that prioritizes the rider experience. Due to this fact, the Public Contest Day scheduled for September 9th was canceled because of bad weather on the mountain; making riding impossible. Therefore, the riders agreed to use the results from qualifiers from the previous day, as the event's final contest results.
Be sure to head to nineknightsmtb.com for more information on the Suzuki Nine Knights MTB and check back on nineknightsmtb.com for all upcoming event information for winter 2018.
Videos:
Nicholi Rogatkin's world first twister on DH bike

Masters of Dirt airbag session

Update day 1 & 2

Contest highlights

Instagram: instagram.com/nineknights #nineknights @nineknights
Facebook: facebook.com/nineknights
—
About Reschenpass
The Reschenpass Holiday Area is located along the old Roman imperial road, on the border between Italy, Austria and Switzerland in the Venosta Valley, the westernmost part of South Tyrol, Italy. The unique location between different cultures has characterized the people and their country. The centre of the region is the drowned Romanesque tower that juts from Resia Lake. The three resort lifts (Schöneben, Haider Alm, and Maseben) enable you to comfortably ascend to the most beautiful mountain summits overlooking vast meadows and mountain huts, as well as the highest mountain in South Tyrol, the 'King' Ortler. 200 km of marked hiking trails, 350 km of bike trails, one ship line, will take you to exciting places. New in 2016: The 3-country enduro trail that demands skills, coordination and endurance without forgetting the fun factor. The "3-country Summercard gold" allows access to all the lifts, and the four mountain railways, which lets you to start your tour at a higher level. So perfect trail fun is guaranteed. More info: reschenpass.it
About South Tyrol
Italy's northernmost province combines Alpine staidness with Italian joie-de-vivre, the Dolomites – a UNESCO World Heritage site – and cultural diversity. South Tyrol is a region abounding with contrasts, between Mediterranean landscape and Alpine peaks, deeply rooted tradition and cosmopolitan curiosity. The allure of South Tyrol lies in its variety and the harmony of opposites. More info: suedtirol.info/en
About Suzuki
The Suzuki Motor Corporation is based in the Japanese city of Hamamatsu, and is the world's leading supplier in the minicar segment. In the 2015/2016 business year it produced 2.9 million vehicles worldwide. The Corporation employs 51,503 people globally and sells its products in 196 countries and regions.
In the 2015/16 business year, the company turned over 3.180,7 billion yen (€25.6 billion €*). With an operating result of around 195,3 billion yen (€1. 57 billion €), the Suzuki Motor Corporation saw a 8.9 percent rise in its profits over the previous year. Suzuki maintains 35 main production facilities in 24 countries and regions.
Suzuki's 'Way of Life!' represents the global brand-attributes of enthusiasm, down-to-earthness, quality, sportiness and team spirit. These values express themselves in innovation, products tailored to customer needs, and an impressive set of core expertises including in the offroad and AWD fields, based on a company history stretching back for more than a century.
Suzuki International Europe GmbH, based in Bensheim, Hessen, controls activities throughout Germany in the three business areas of Cars, Motorbikes and Marine. With its 375 employees, the company generated a turnover of €655.4 million in the 2015/16 business year. A total of 30,903 vehicles were newly registered in the year 2015.