Year 2020 was not a good time for most people (including me). From my perspective, it was a complete change of plans for the future and a harsh landing in new Covid reality. However, in all this confusion there was one amazing positive that I can definitely call the best biking adventure in my life. I was able to spend a month building trails and ride a lot in amazing place on the Slovenian-Austrian border. Welcome to my Slovenia trip.
Plans are changing…
In short, the summer of 2020 has left me with a lot of free time. Back then I hoped that all that mess would pass quickly and at the end of the year I would return to my original ambitious plans, which were also related to biking. In May I came across an advertisement from my friends at Mountain Bike Nomad team. They are creators of Singletrail Park Jamnica, and they are looking for people to work on the paths in exchange for full bed, food and some good riding. Knowing this part of Slovenia and its potential from the previous visit, I applied immediately. There was one problem. Poland was on the red list of countries in Slovenia for a long time, and advised 2-week quarantine. Until the very end it was not certain if I would be able to go there, but luckily at the end of August I had good timing with the short period when Poles were free to travel to Slovenia. The initial plan assumed that I would be there for about 3 weeks at the turn of August and September. In October, the Enduro World Series round was to be held here, so the work was going to be very interesting.
Bike bivaq
I managed to get to the Eko Hotel Koros in Jamnica, from Poland without any problems. The hosts, Anej, with Dixi and their family welcomed me with a local shnaps. During dinner, I also met two more diggers who responded to the same offer as me. Liam, who flew from Scotland, and Lutz, a German who has been touring in his camper around Europe for a year with his enduro and dh bikes. Due to the holiday season, the Bike Hotel was full, so me and Liam got the "bike bivaqs". It is something like a small summer house. A small wooden cabin with one large bed, a large, panoramic window, electricity, terrace and storage space. The next morning, my room revealed its greatest advantage to me, which is a brilliant view of the surrounding area right from the bed. And the lack of WiFi signal or the fact that you had to walk a bit to get to the bathroom and shower was no longer important. This small, inconspicuous place very quickly made me realize that sometimes less = better and that the only screen / TV needed in places like this, is actually a window overlooking the beauty of the mountains.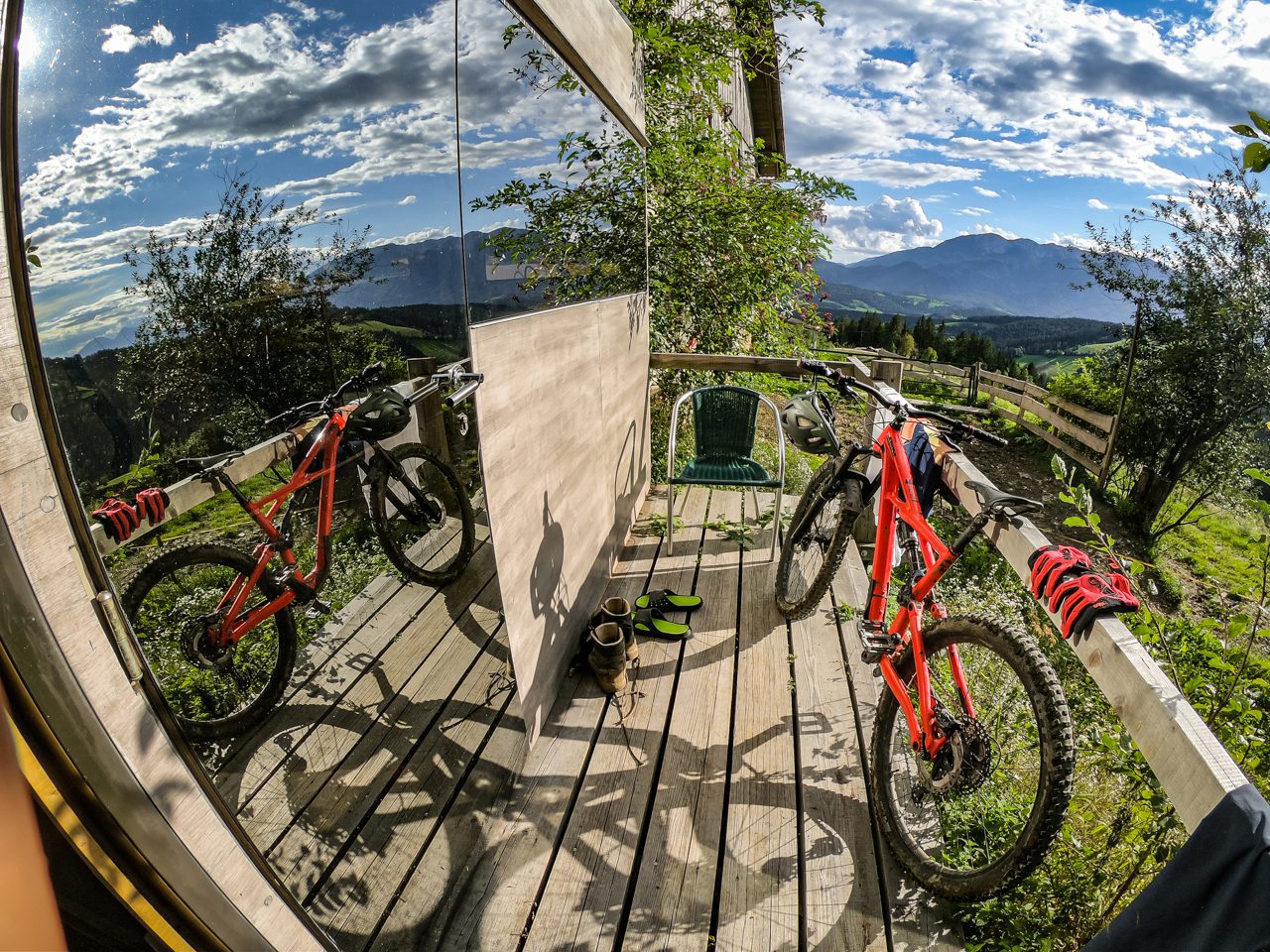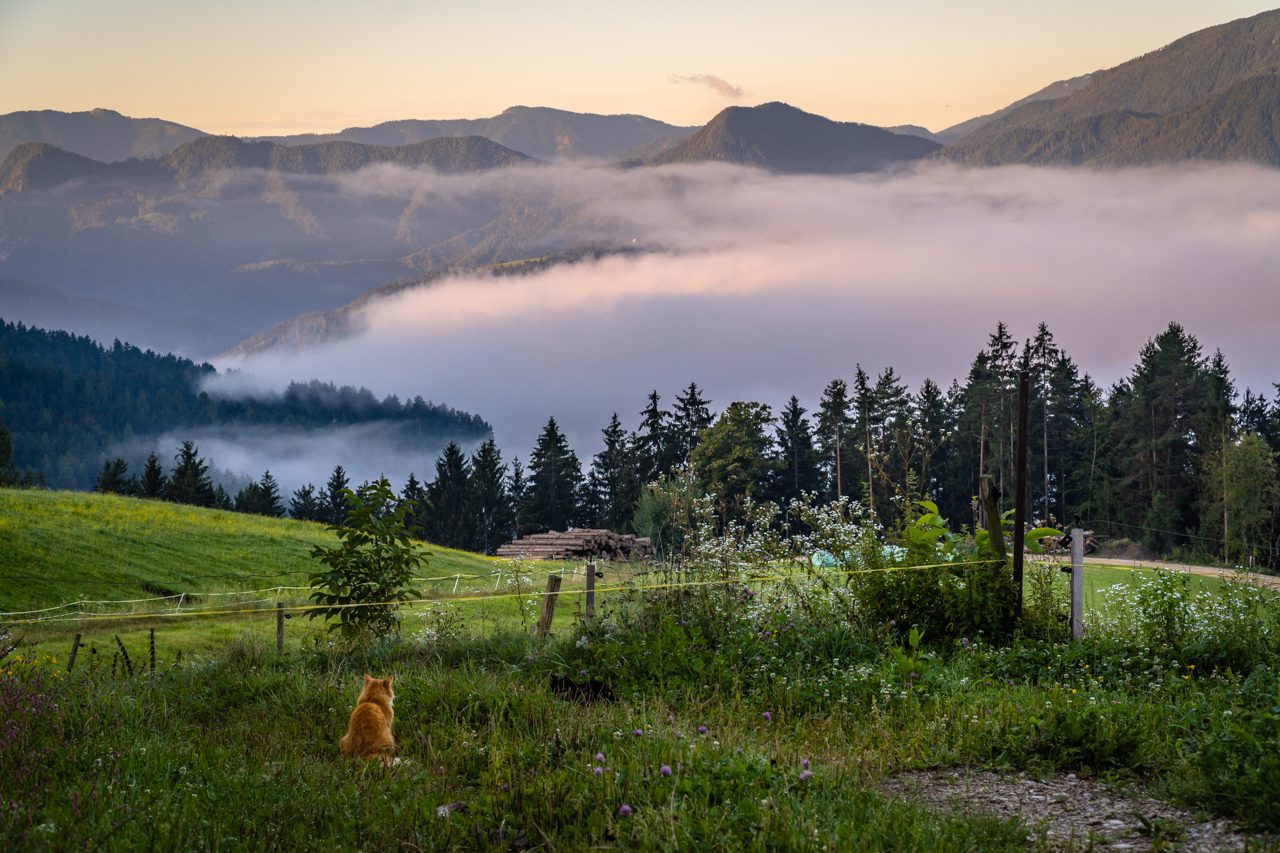 Lets get to work
The schedule of the day was usually similar. We started with delicious breakfast at 8.00 am, then 6-8 hours in the woods working. With the long summer days, it left a lot of time to rest and, of course, to ride. The trails of Singletrail park Jamnica are mainly natural or only slightly modified paths. The main maintenance of them is cleaning them of branches or bushes, and ensuring their correct and flowy course. From the very beginning, as builders, we had to switch a bit from thinking "here we will build a big berm, and this we will cut out". In a few cases, we changed the terrain or dug in, but still final trail must remain mostly natural. It wasn't as easy as it seems to be, especially that all work is done only by hand, without any excavators or heavy machinery. With shovels and matocs, we left out there a lot of sweat, but the atmosphere, the views around and the great team put everybody in a very positive mood. Additionally, during the hottest days, there was always a possibility to quickly relax at the swimming pool. What's more, our work has not always been building or cleaning bike trails. Eco hotel Koros is not only an ordinary hotel, but a still a fully functioning farm. So sometimes, for a change, we participated in harvesting, picking potatoes, plums or transporting hay.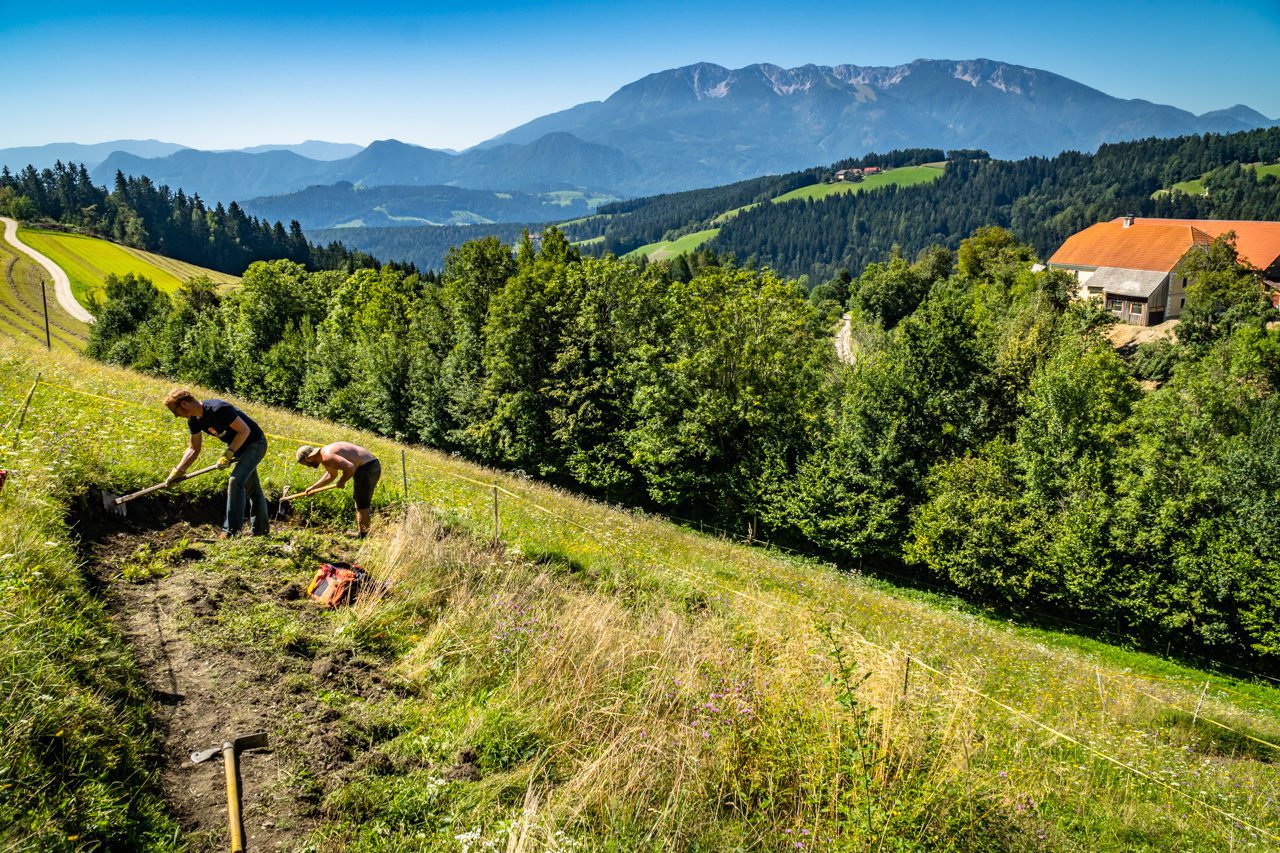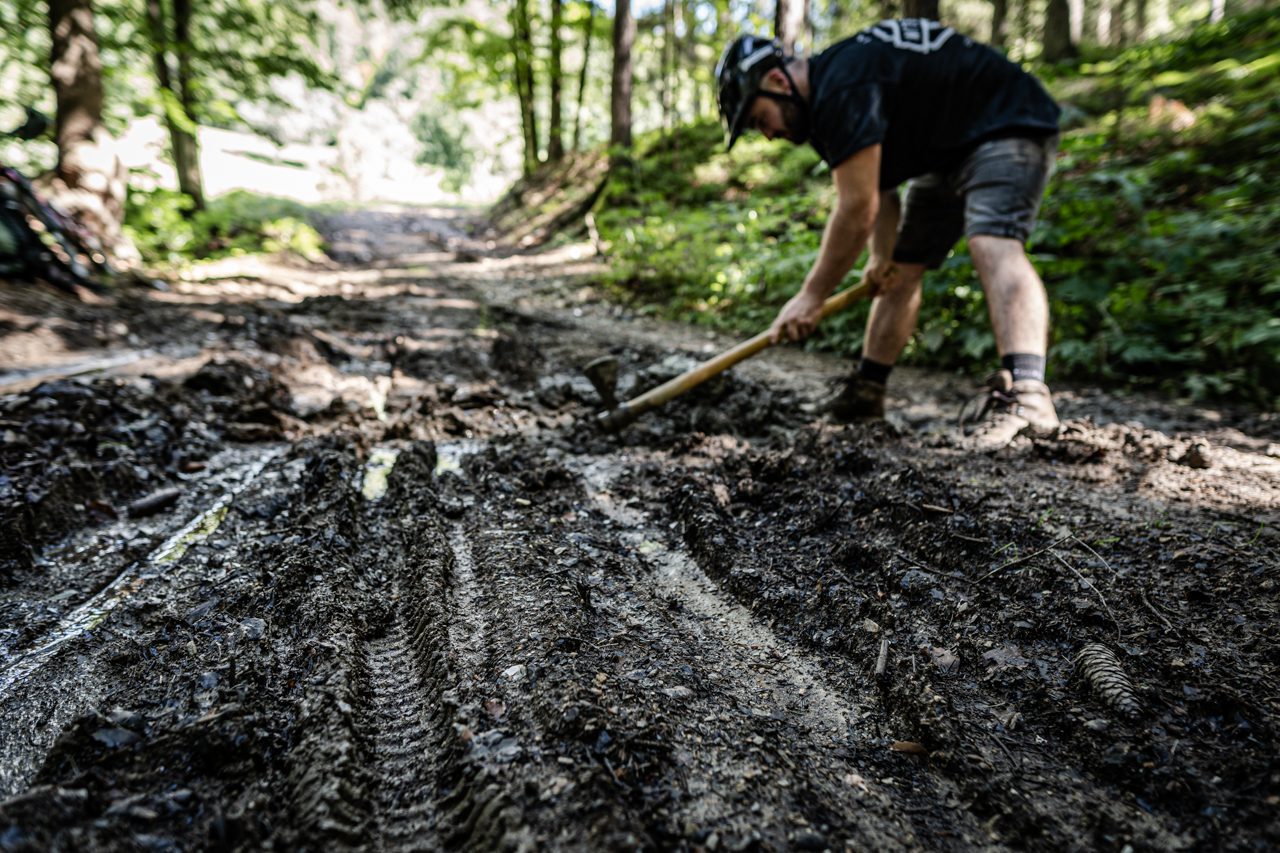 Singletrail park Jamnica – the trails
As I mentioned before, the main assumption of the trails in Jamnica is to keep them in natural way as much as possible. On the other hand, riding must be flowy and interesting. The goal of the Bike Nomad team is to maintain this balance, which makes riding here different from typical bike parks. Currently, about 20 km of marked and prepared trails are available here. The paths are narrow, winding along the trees, often packed with roots and rocks. The local crew supervising us made sure to keep them in good shape. Of course, along with the popularity of the place and more and more bikers, these most popular variants are more and more ride out, and the whole is also affected by erosion. In this case, we mainly checked the correct line of the route, so that people would not cut corners and stick to the most flowy way. However, there are so many variants that you can choose, so You can find really cool and wild options.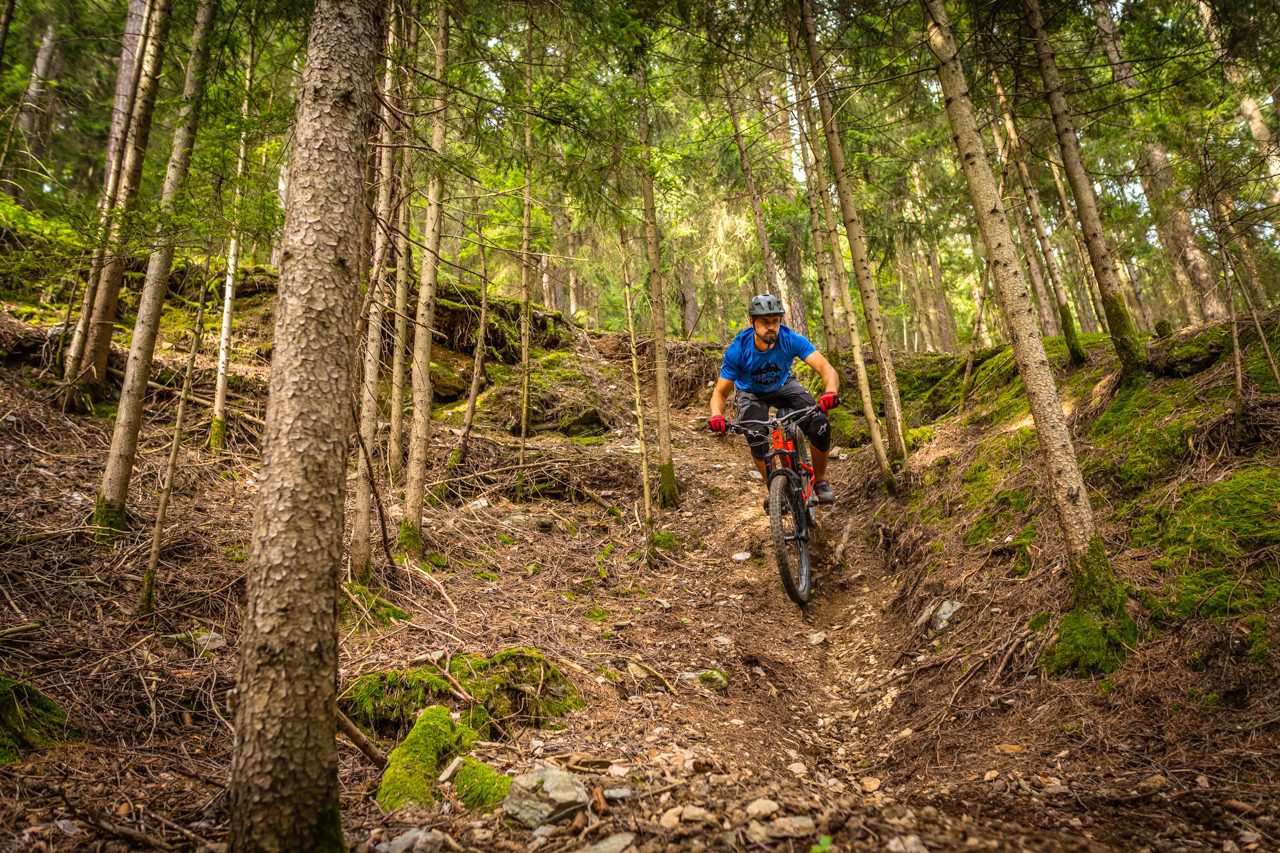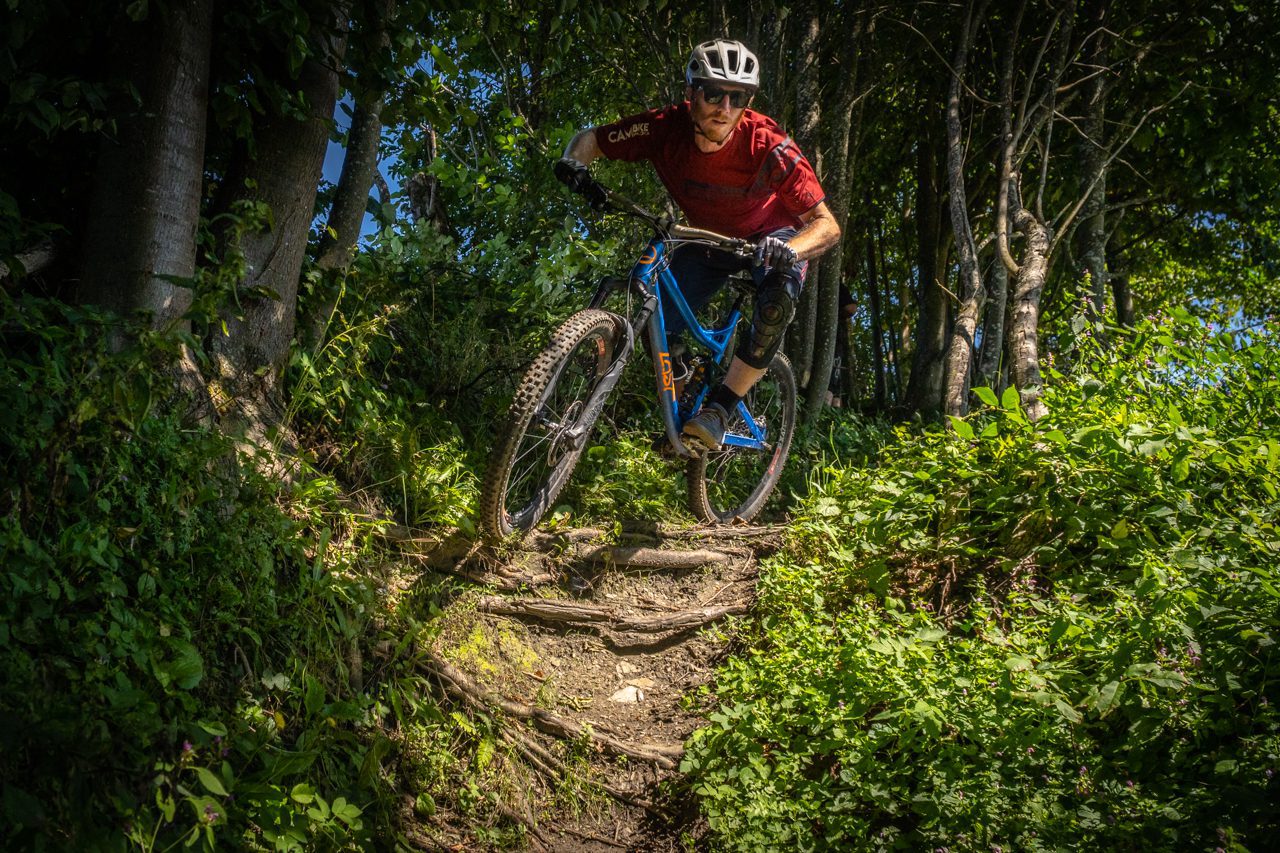 At the very end of my shift here as a trailbuilder, another Scottish team of builders arrived. They had their own view of the mix of the natural route with interesting elements and this is how the first more bike park style trail in Jamnica was created. It was accepted as a good training skills option. On it You can find some elements to catch some air time. The lack of jumping elements for me was probably the only one downside of the trails here. But on the other hand I did not get bored here for any moment, and especially that there are several places in close area where you can make up with jumps. The Single Trail Park Jamnica itself is still an ideal place for people who are looking for nice, natural enduro style trails. Also You can always tell that You ridden same trails, as best EWS racers.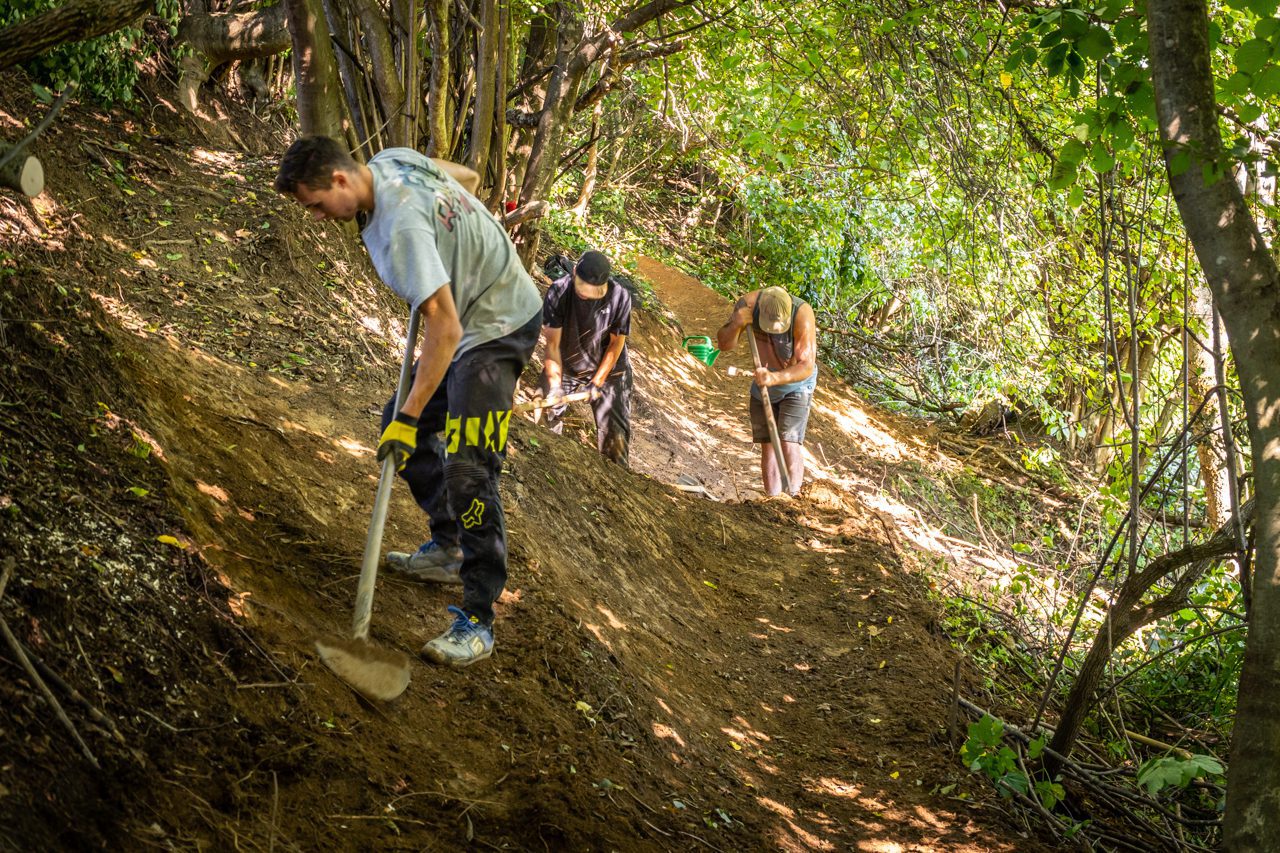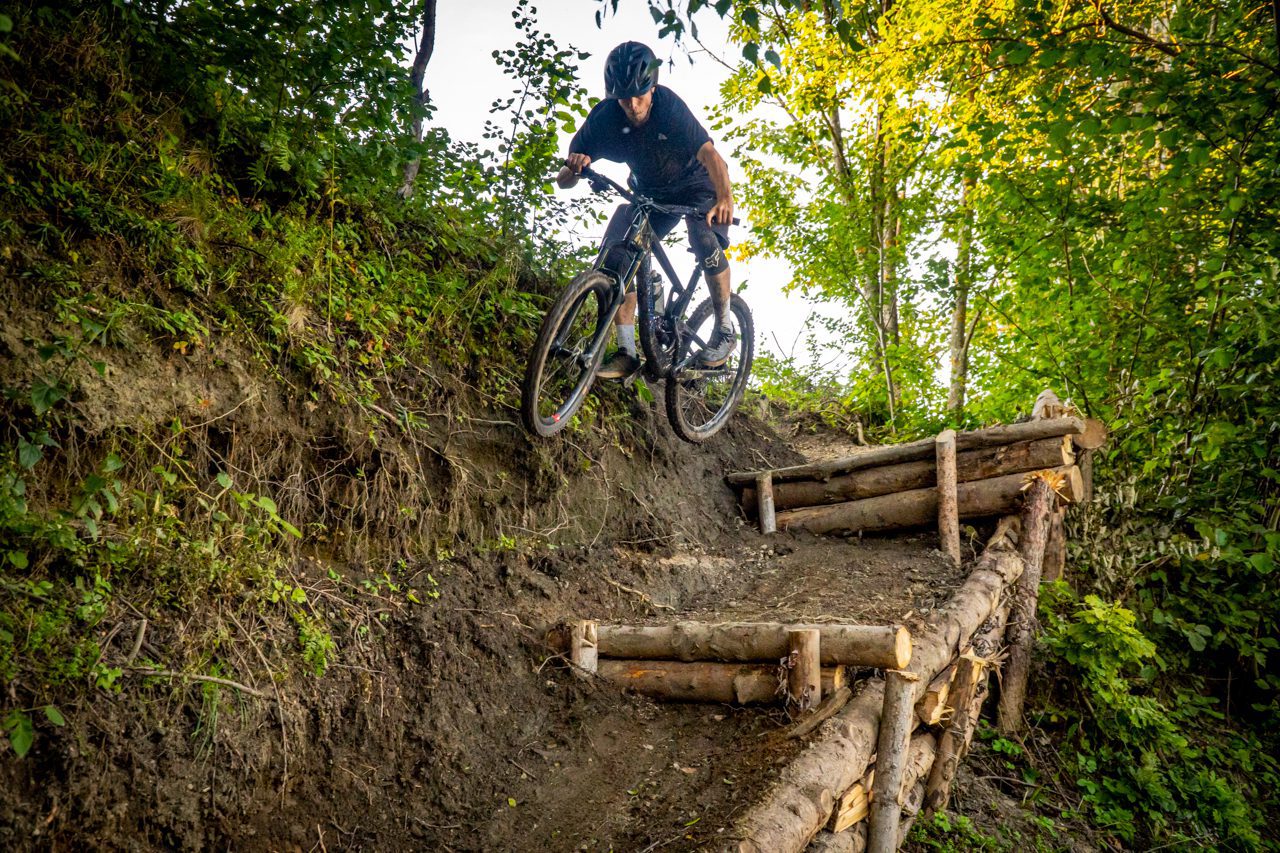 Trails in surroundings of Jamnica
Jamnica is also a great starting point of wild enduro trips and can offer bikers a lot of amazing trails in short distance. Pretty much on every hill visible around you can find something good to ride. To find the best trails around, it's best to hire a local guide. Of course, no one will forbid you to look for them on your own, but there are so many different forest paths here that it's better to know where to go to get the most fun out of the descent. A network of gravel roads helps in commuting, thanks to which we can easily get even very close to the peaks. After wild ride we can easily return directly to Jamnica, or at least to the main road. If someone, like me, prefers to look for and try new trails than to ride the same thing over and over again, then he will feel like in paradise.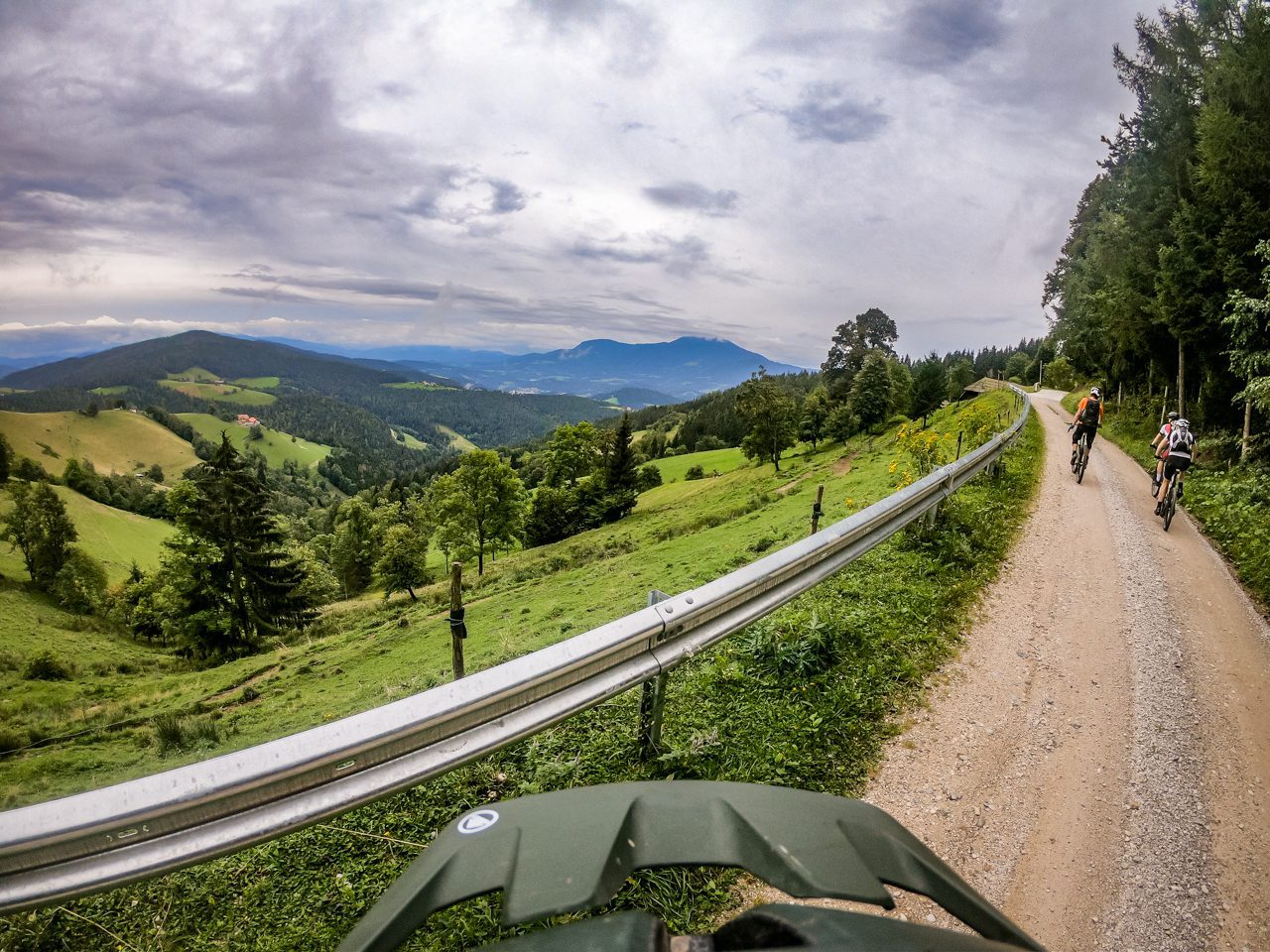 Strojna, and Vid Persak training trails
Those of you who follow the EWS rankings should know the name of Vid Persak. He is one of the fastest Slovenians in enduro, and claims high spots in EWS races. He lives in a village right next to Jamnica, and on the hill in between he has his training grounds with great trails. The forest, which at first glance doesn't look very steep, hides a lot of interesting obstacles, such as steep rock gardens, technical traverses along the roots, or drops of various sizes. All this, enriched in some places with small berms or lips, creates very nice and technical trails.
Together with Liam, we also join in an easier trip to the forest above town of Strojna. Pleasant, quite gentle singletrails led through a picturesque terrains. Due to the fact that only a small group of local riders knows about them, they retain their very natural character and create a great atmosphere, and the views around the town are just fabulous.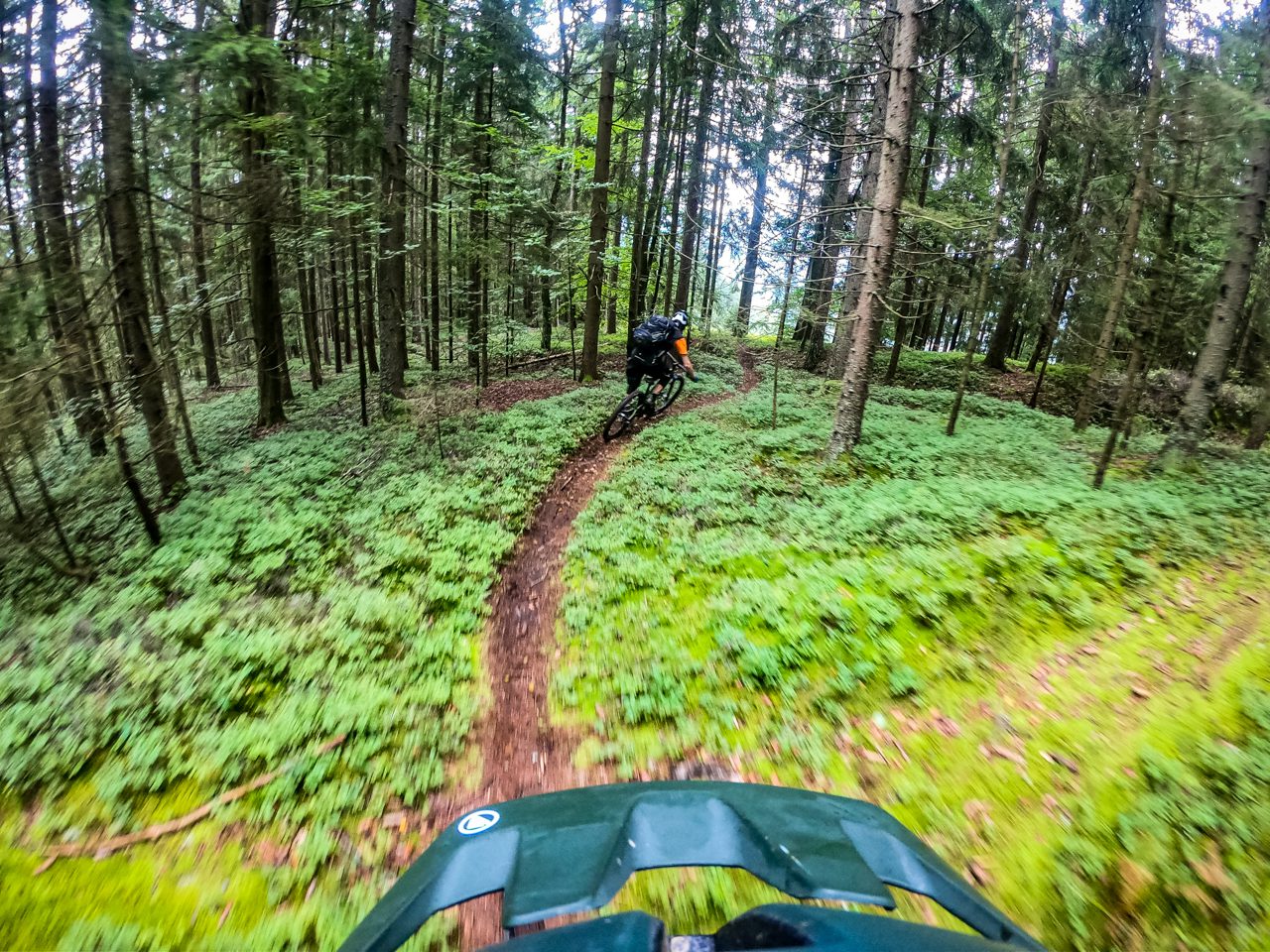 "The Ridge" and "Goat" trails
A 20-minute drive from Jamnica is town Mezica, and above it one of the trails known from the Enduro World Series, which took place here in 2018. It's a bit of a climb to get to The Ridge, but it offers great downhill ride. The name comes from the fact that it leads along a slowly descending ridge. We mostly go through the forest, and the path maneuvers between the trees, but sometimes we also go for amazing views. The natural path with a lot of roots and rocks has been additionally enriched with drops, bridges or delicately profiled turns. Amazing, long and flowy trail that gives You big smile on the face. In my opinion, this is a must for fans of a good enduro style ride!
After a ride on the main variant of "The Ridge" line, we went for another, shorter variant, which offered great views and another amazing single trail. For dessert we left trail called "Goat". Located a bit lower, in the forest offers a good enduro style ride. There are parts that are fast, but also steep and very technical. The whole ttrail has very good flow. Some of the bends are profiled and there are also wooden bridges along the way. A piece of a nice trail on which we will not be bored even for a moment. With the extended option, we can go straight to the center of town Mezica.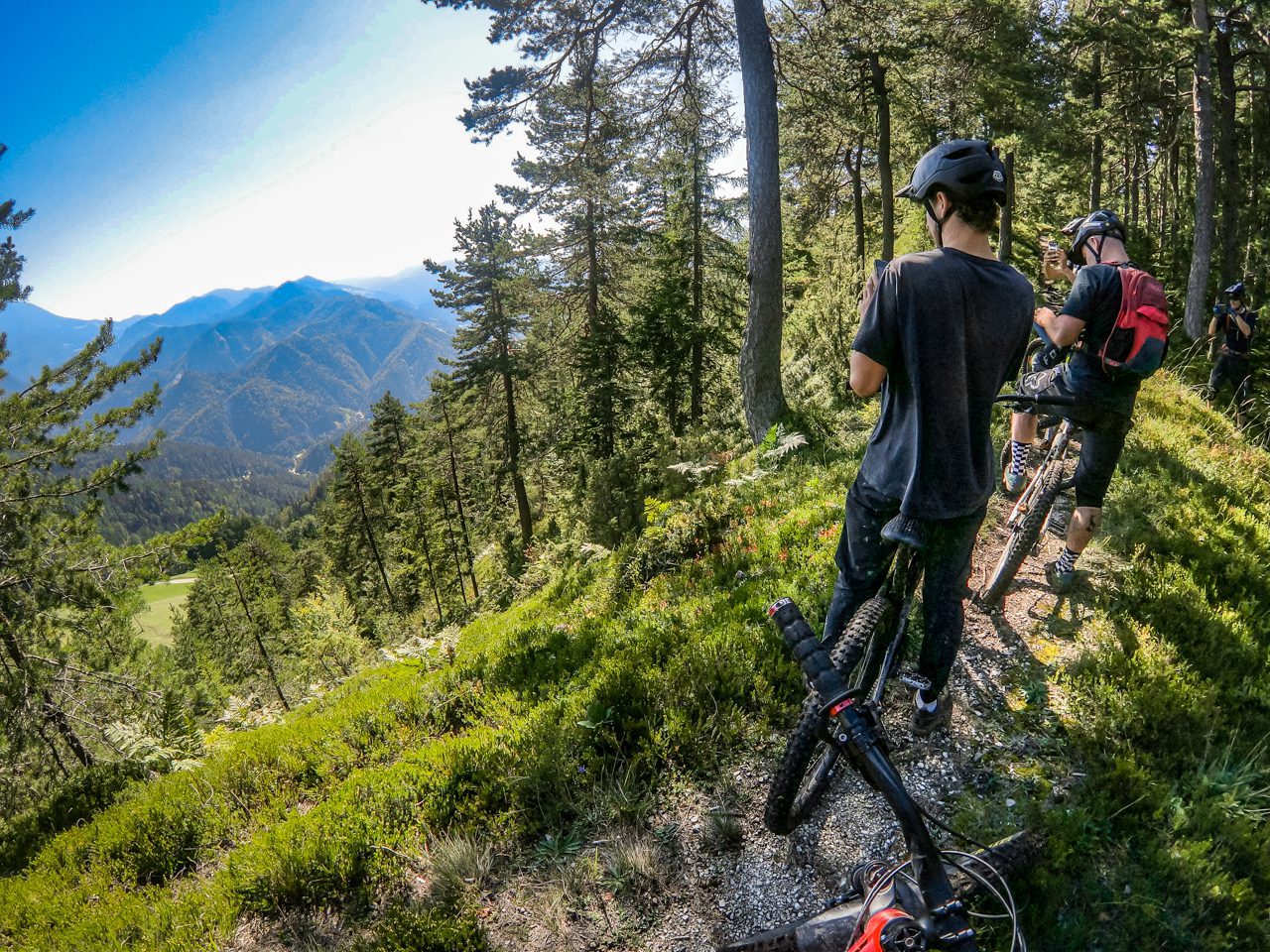 Black Hole Trail
Interestingly, just straight under "The Ridge" and "Goat" trails, there is one more option. The "Black Hole Trail" is a amazing and challenging underground tral. It is a phenomenon on a global scale, because it is a real and quite demanding enduro trail leading through the abandoned corridors of the former mine. It was my second time on this trail and even now it made a strong impression on me. The downhill sections are very technical, and the atmosphere that adds movement only in the light of the headlamps is a unique experience. On the route, we have to pay attention not only to what is under the wheels, but also to the walls and ceiling. If you're in the area and you're ready for a technical enduro ride, then be sure to challenge the "Black Hole Trail" in person.
Petzen Bikepark
Every morning I woke up with a view of the majestic Petzen mountain and the Bikepark on it. It is located on the Austrian part of the mountain, but it is not very far (approx. 12 km) so we went there straight from Jamnica on bikes. We had to climb a bit, then ride down nice singletrails straight to the valley. Then a piece of flat grounds, and straight to lift and the top of bikepark. Petzen is best known for the smooth, and very long, Flow Trail. In my opinion, here are the best profiled berms I've ever ridden on. After warming up on flow, it was time for Thriller and EWS variants. Here, You have demanding ride on rocky and rooty terrain with many technical elements. It is worth mentioning that each descent is almost 1000 meters vertically, which is about 15-20 minutes of pure downhill riding. Another place that really cannot be missed while coming to the area.
Bikepark Poseka
There is a mini bike park in town Ravne na Koroskem, approx. 15 km from Jamnica. There You have to get to the top of a hill on your own. There are 3 interesting lines, one of which is a flow line with quite nice table jumps, transfers and high berms, and the next ones are in forest with more natural variants full of roots, rocks and traverses.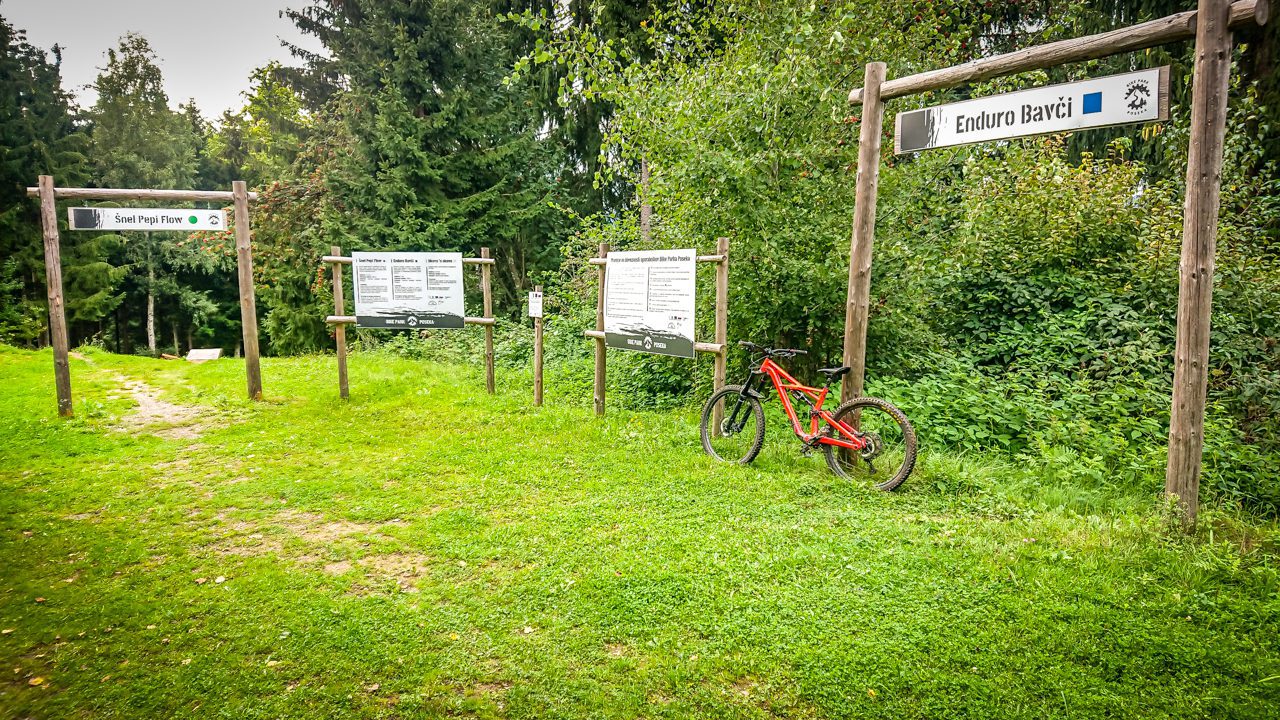 Further bike trips
Bikepark Krvavec
Although the distance in the straight line is not very long, the road from Jamnica, and through the mountains, takes about 2 hours in one way. Anyway, it's worth visiting Krvavec, which is mentioned very often by Slovenians as their favorite place to ride. This time, I finally managed to ride all possible trails, which are located by two lifts. The upper chairlift gives access to the gentle flow line called Bambino, and to incredibly scenic, but slightly flat, single tracks. Two main and best known trails are below, named "Muci" and :Rock & Flow". The first one is a more gentle enduro trail that avoids the steepest parts of the mountain, but still you will find on it a lot of natural obstacles mixed with berms and small jumps. The fun for real starts on the Rock & Flow trail. As the name suggests, we start by riding on rocks mixed with roots. As we get down , the trail slowly switch to the flow variant. On lower part there are a lot of nice profiled berms and there are also some jumps and gaps to fly. For the first impresion, the choice of trails is not very big, but again you have to remember that each descent from the top to the bottom is almost 1000 meters of elevation and, like in Petzen, there is definitely no space to be bored on the way down. Even for the ending of the season, all trails were in great shape and I had a lot of fun over here.
Bikepark Maribor – Pohorje
While visiting Slovenia with bike, you cannot forget about the Bikepark in Maribor, which is best known for the Downhill World Cups held here. We had there over an hour drive from Jamnica. Unfortunately, in September the Bike Park trails were in a poor shape. The tempting big jumps had terribly washed off take-offs and landings, and there was a lot of loose stones everywhere. In addition, the top half of the DH world cup track, with the famous rock garden, was closed due to preparations for the next edition of the World Cup, which was held here a month later. So we tried the wild trails here, about which I have heard a lot of good things before. Indeed, the wild paths that extend beyond the bikepark terrains are brilliant. The well-used and very diverse terrain, gave us a lot of fun. However, it should be remembered that riding on these paths is illegal and apparently the police can stand at their exit and issue high fines. Of course, you also have to watch out for the hikers. One of such paths has already been included in the bike park map, so maybe more of them will be legalized in the future. I highly recommend to ride the new on the bike park map "Fairy Trail".
Jamnica – not only about biking
Jamnica is a trully great place not only in terms of biking, and bike related things. If you want to take a break from demanding descents, there is also something to do here. The farm itself is so idyllic place, that it was easy to forget all the Covid confusion, lockdowns and things like that. It was definitely better to focus on the fact that there is a fridge on site with a variety of local beers. You can hide somewhere on the terrace and just stare at the constantly changing views, and when it gets too hot, you can cool down in the pool. It is also worth mentioning the food, which is not only home-made, but also made of local eco-products, most of which come from a farm itself or one of its neighboring farms. It is also worth combining a trip to Slovenia with some sightseeing. There are many interesting and very scenic places around, cool hiking trails and interesting monuments, or museums.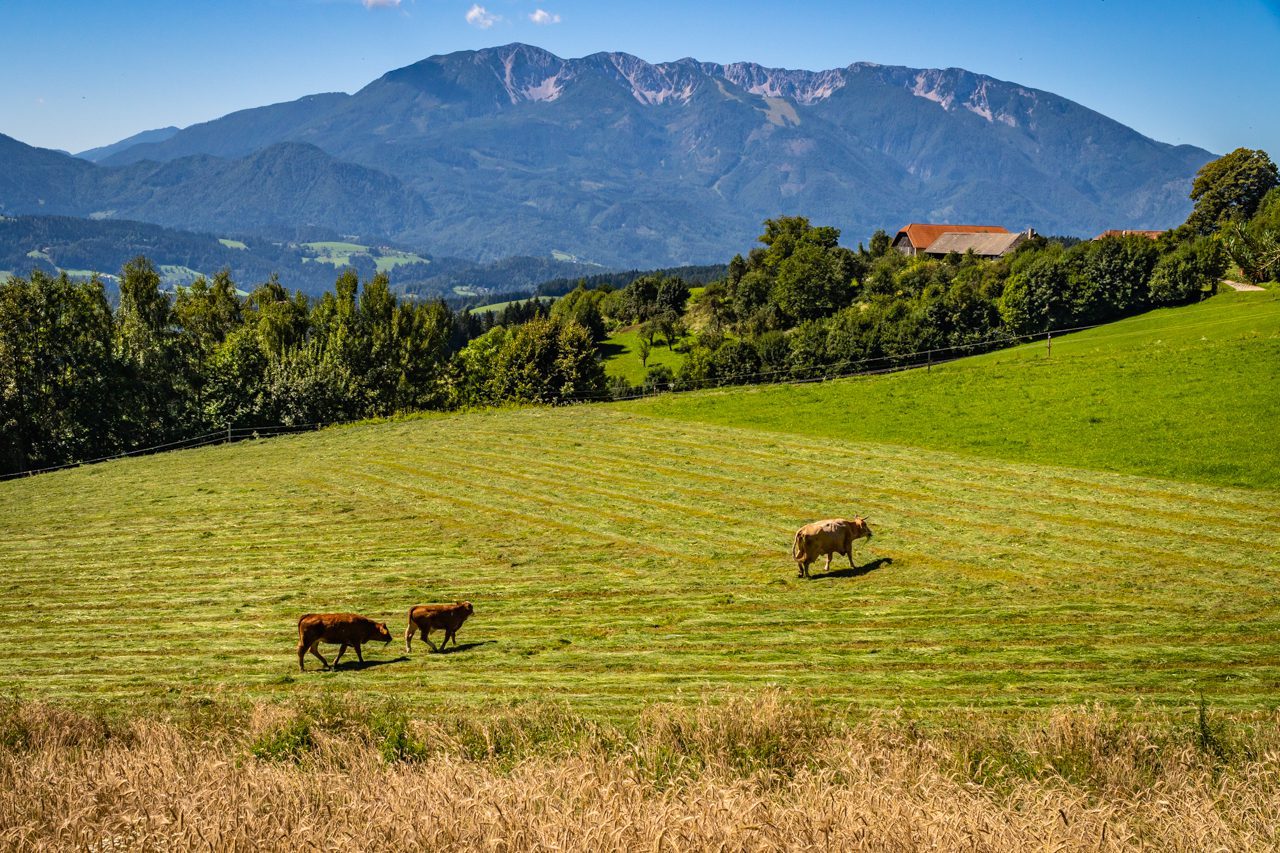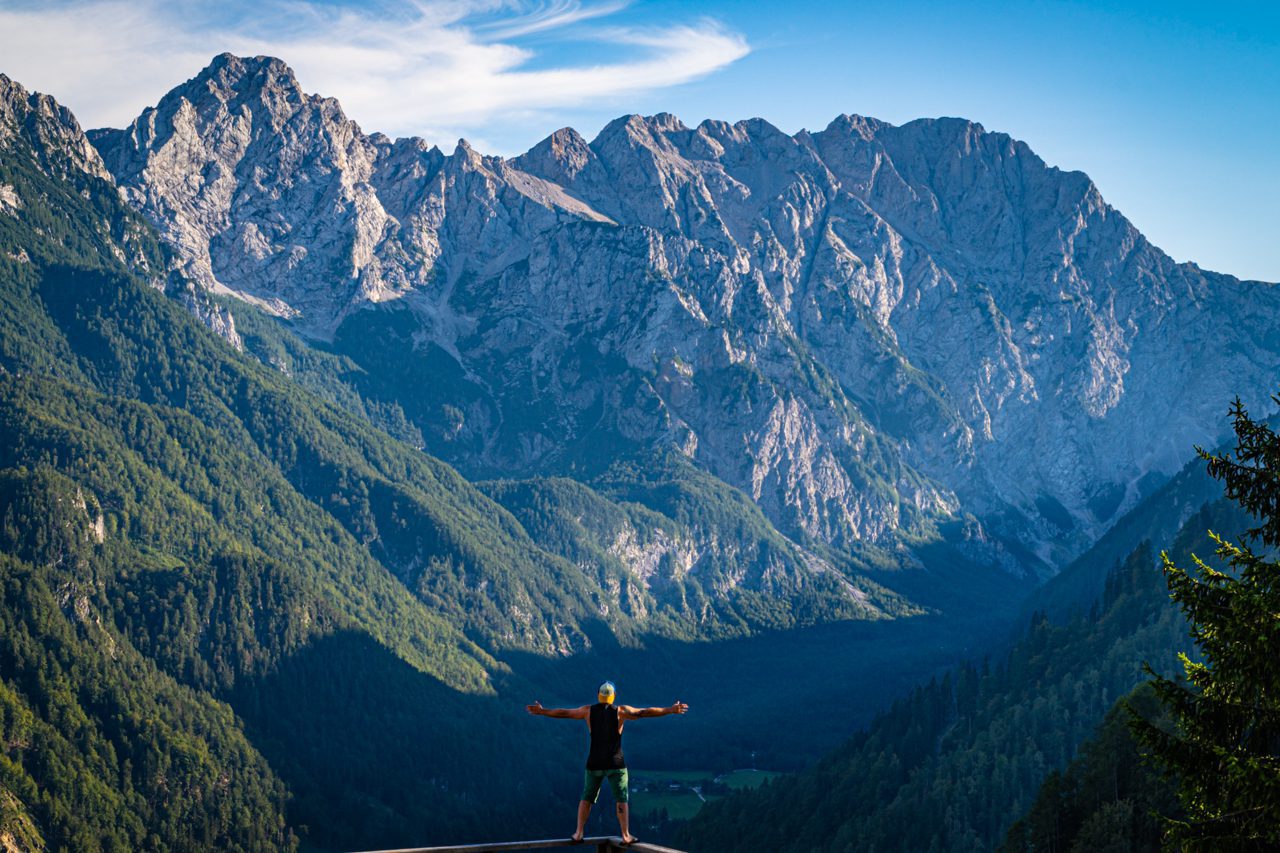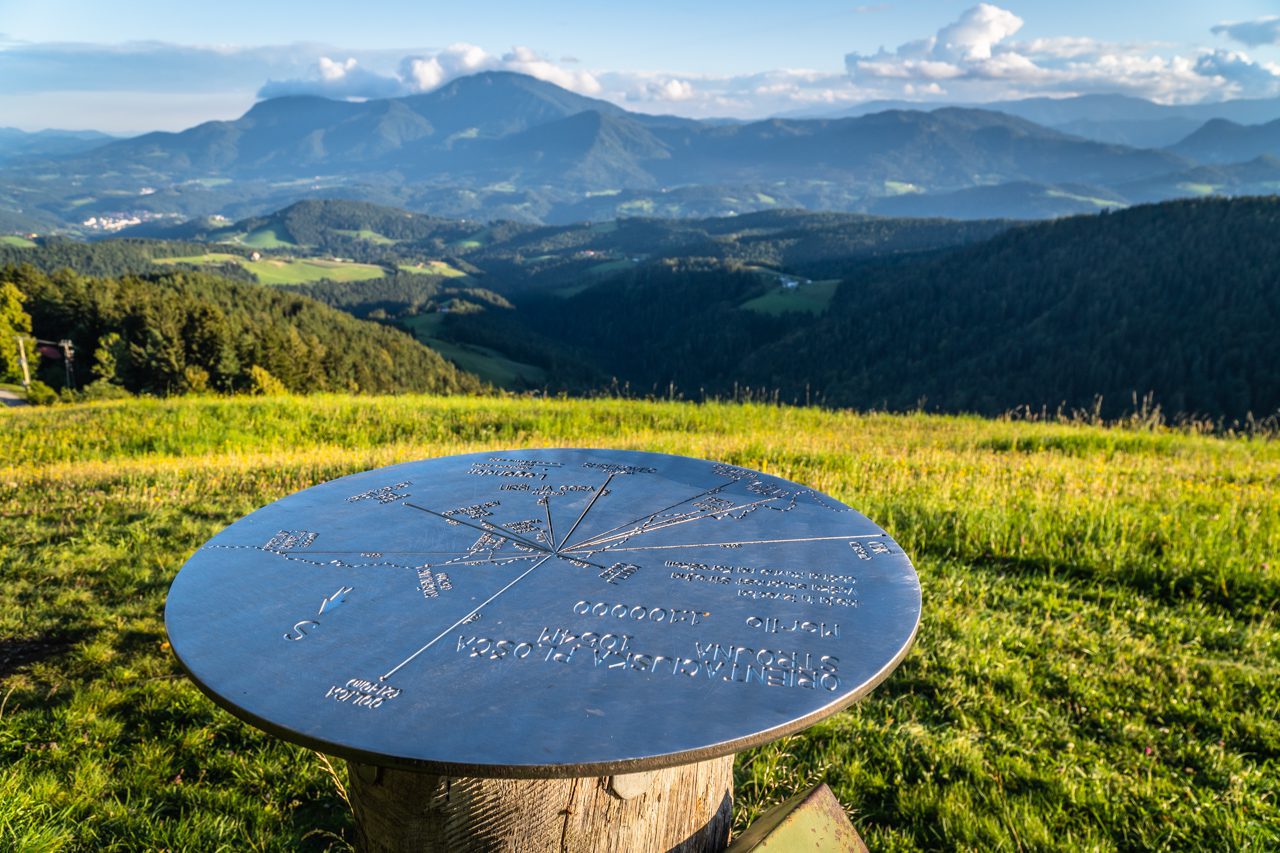 Summary
It was not my first visit to Slovenia and I hope that I will be able to come back here again for a longer time. I planed to spend 3 weeks in Jamnica, but in the end I managed to stay there for a little over a month. Still, it was definitely too short and even for such a period of time I did not manage to realise all the biking plans in the area. There is also Kope Bike Park nearby and more kilometers of great enduro singles. Anyway, it was a great time, despite the responsibilities and quite hard work. However, the atmosphere of the place, a great team, and a lot of awesome riding made it my best and most exciting bike trip in my life.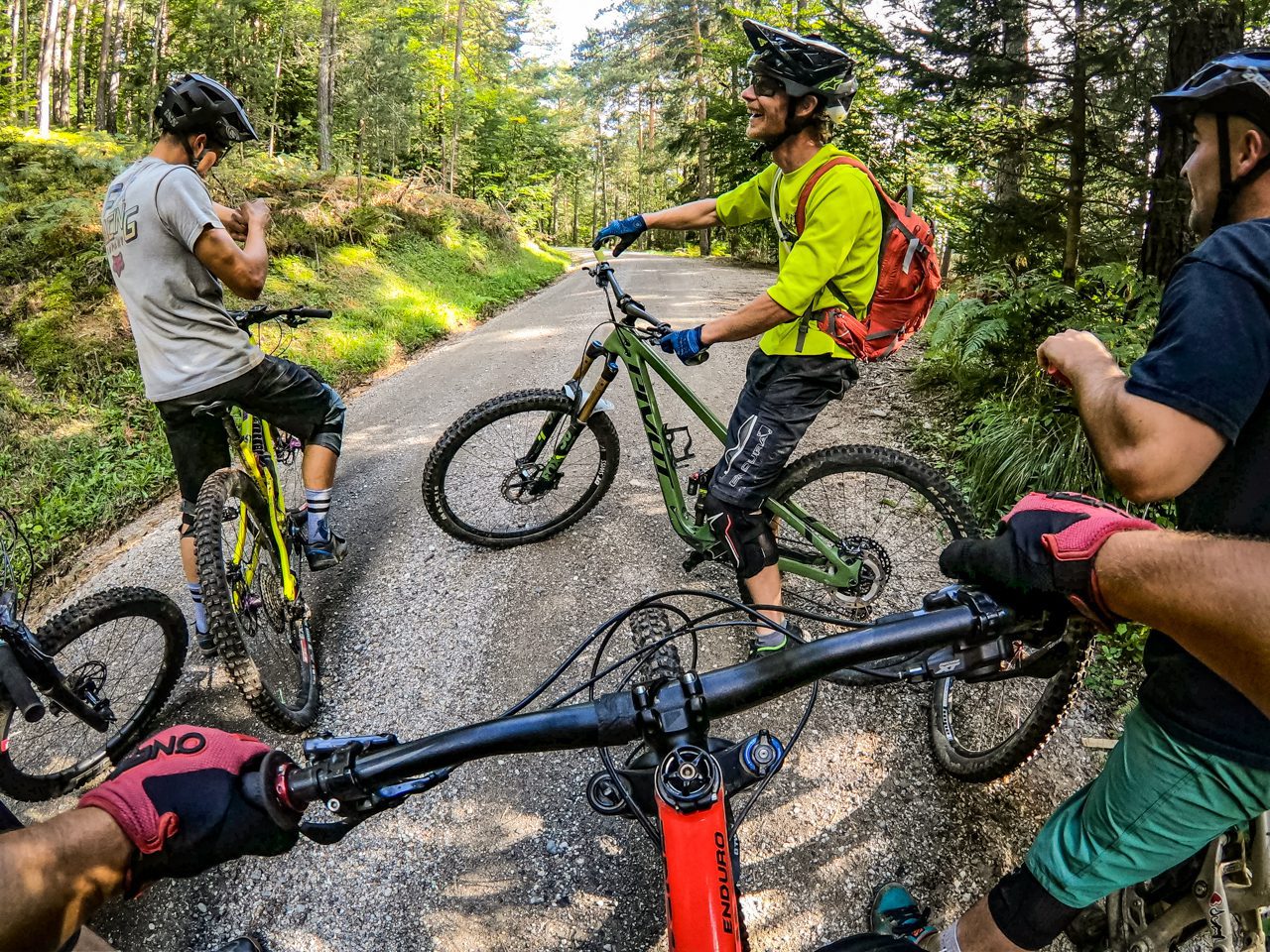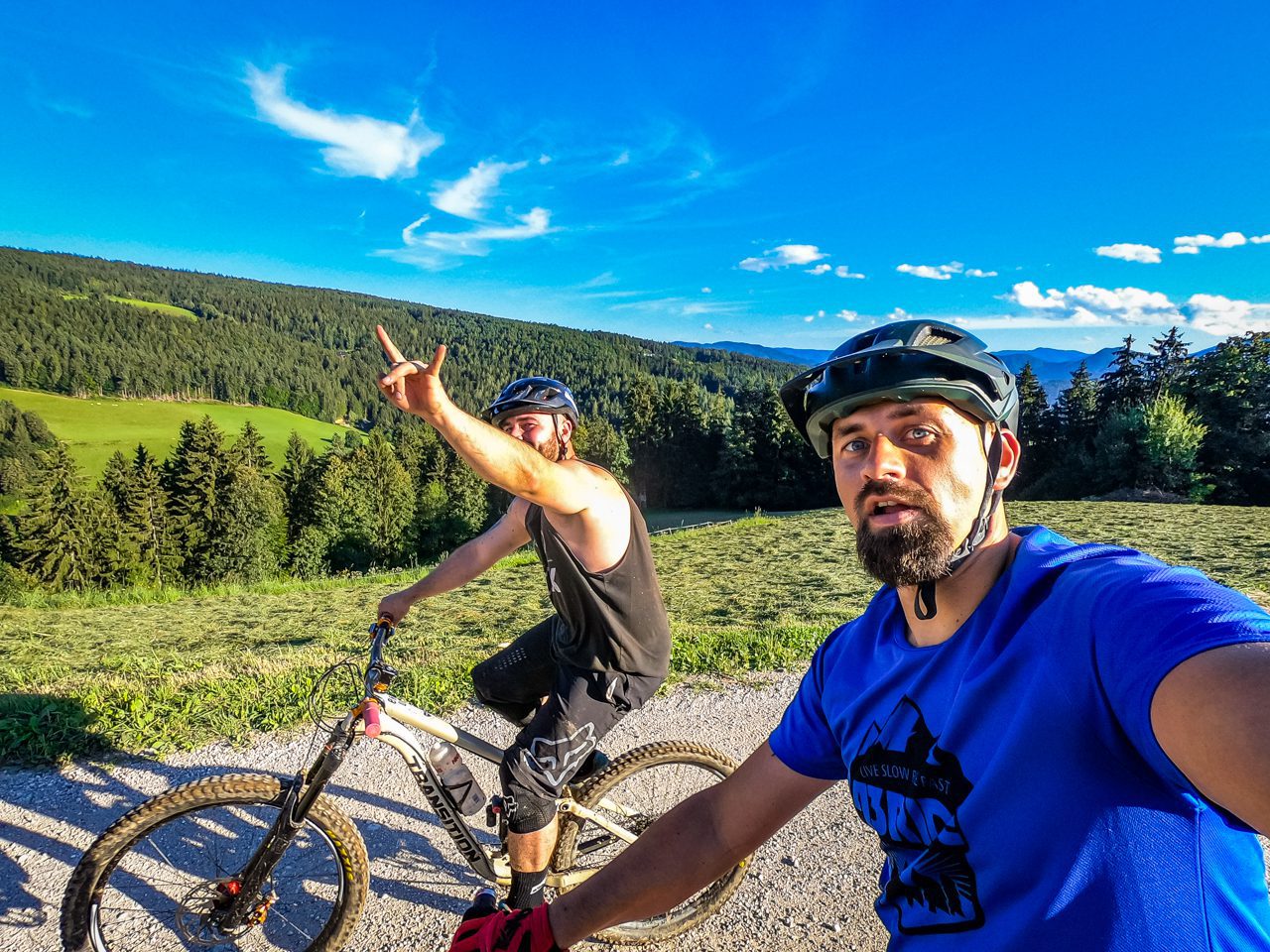 If You are looking for an excelent enduro-style place and natural styled trails, then Slovenia has a lot to offer. Jamnica itself can give You a great and varied ride on the trails known from the Enduro World Series. In addition, there are dozens of kilometers of single trails in the area. The local bike parks, although they are not as large and developed as in Austria or France, but they can also provide a solid dose of a amazing bike ride. I highly recommend the entire region of Koroska and I encourage you to spend at least a few days here.