Jamnica, as a town, is so small that it's hard to find it on the map. However, in the biking world, this place is becoming more and more well known. All thanks to the great network of biking trails, which as one of the few places in Europe, was hosting the world's largest enduro MTB event the Enduro World Series.
What makes different Jamnica from other typical bikeparks is more natural character of the trails. Most of them are just old paths, that were converted into great bike trails. The first time I came here because I've heard a lot of good things about the place from other Slovenian riders. It was straight after a visit to nearby Mezica, where I was riding underground enduro trail the "Black Hole Trail" which was build by the same crew as Jamnica Trails. On the way to the trails we could admire amazingly idyllic landscapes. Huge expanses of fields and forests on relatively small hills, and between them single farm houses. Winding gravel road lead us straight to the heart of bike trails in Jamnica, the Ecohotel Koros.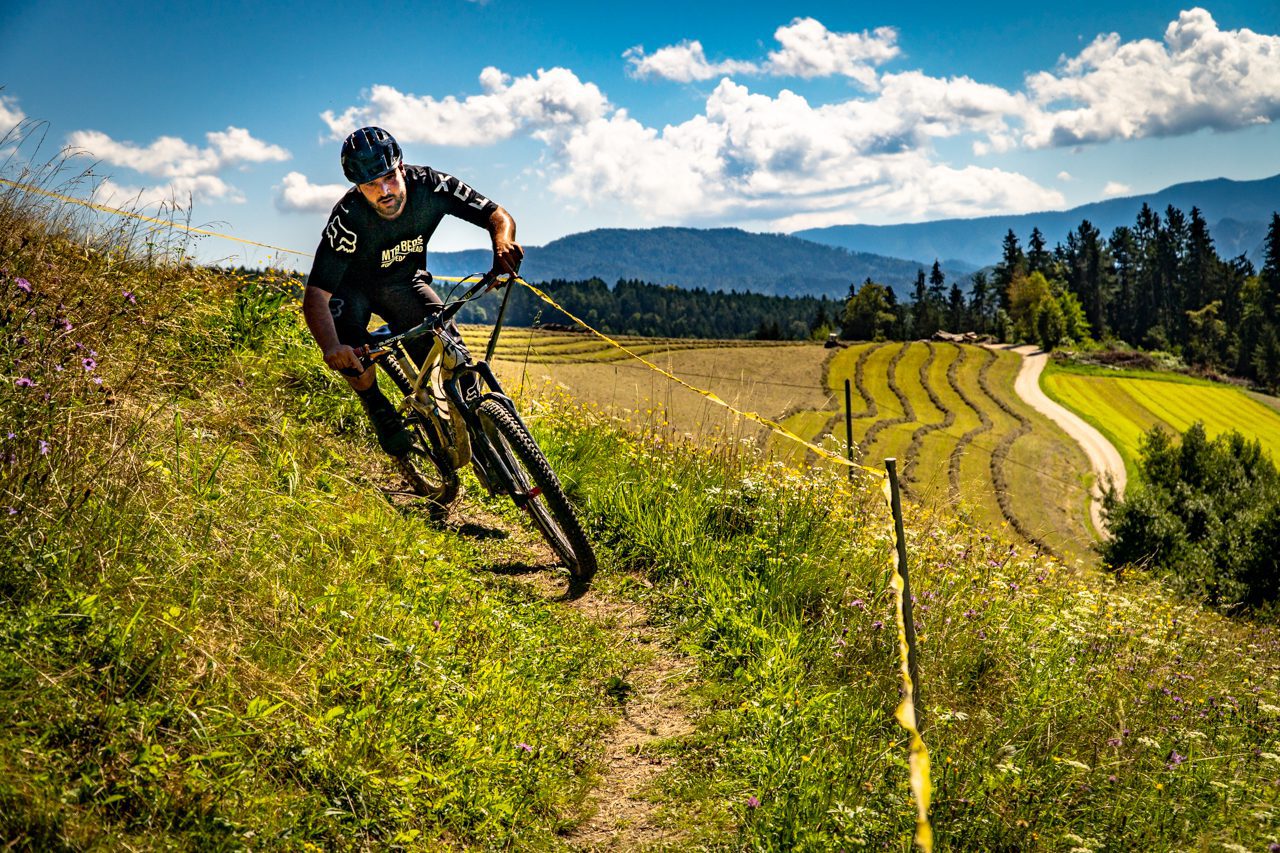 Trails
Single Trail Park Jamnica is a place designed primarily for advanced enduro bikers, especially those who love to ride on natural paths. We will not find there smoothed flow trails with large bends, but we will have amazing ride on winding paths, between roots and rocks. Trails are built and maintained without any excavators or other heavy equipment. Everything is built by hand and keep up in good shape by Bike Nomad Team. Thanks to this, paths perfectly blend into the idyllic landscape of the entire place, and remain their pure natural character.
In 2020 I had the oportunity to spend here almost a month. I was helping the crew with taking care of the trails, and building some new sections. The whole network of trails in Jamnica is currently over 20 km of prepared paths. It consists of a lot of short sections that can be freely combined with each other. Most of the fun parts, are in the upper, or lower woods. In the middle we have some variants with great views, over the surroundings. But to have good downhill, at first we must go up. There are no lifts, or shuttle buses here. In lower section there is special uphill trail, and the rest we can climb by scenic, and easy going, gravel road.
If we climb to the highest point, then we can do one nice and long run to the bottom of the valley, that will take like 8-10 min of pure downhill joy. But we can also freely combine some shorter sections of trails. Big advantage is a big diversity of the terrain, so upper part trails are different than those in lower part. Some of the conector trails are limited to straight paths, but You can find here also a lot of really fun and technical sections. You can choose also a black EWS variants like the one that goes along the small river. It is very long, with short uphills, but also has a lot of interesting and technical downhill sections.
There are so many trails that it's hard to describe each one of them, but I have to admit that the area is very diverse, and the building team have great skills in drawing the trails in to the terrain so that they are interesting and have a good flow. I have here already a couple of my favorite parts of the trails, and one of them is a relatively short section located next to the Ecohotel and marked as difficult. In the narrow forest it is just a winding path down, but with a lot of technical stuff, and tight corners. Still it has a nice flowy rhytm in it and gave me a lot of fun when trying to keep up the good speed.
Also with the Scotish building crew, we've build totally new variant which combines some more bike park stuff, with use of natural paths. This new trail also can give a lot of good fun on the bike, and You can catch some air over there.
To have the full experience of the place, You must have some skills in riding bike in natural terrain. The hills on first sight doesn't look very steep, but You can find here some good technical stuff. There are also easier trails, but there aren't any smooth flow trails with big and smooth bends. During next summer propably there will be continued progress with more family orientated trail, but still it will be more natural one. On site You can also have profesional lessons and training sessions, which can help You to easily get thru roots and rocks on the trails. What I personally missed the most, was some jumps, or drops. But still after knowing the trails better, You can find some spots to catch some air time.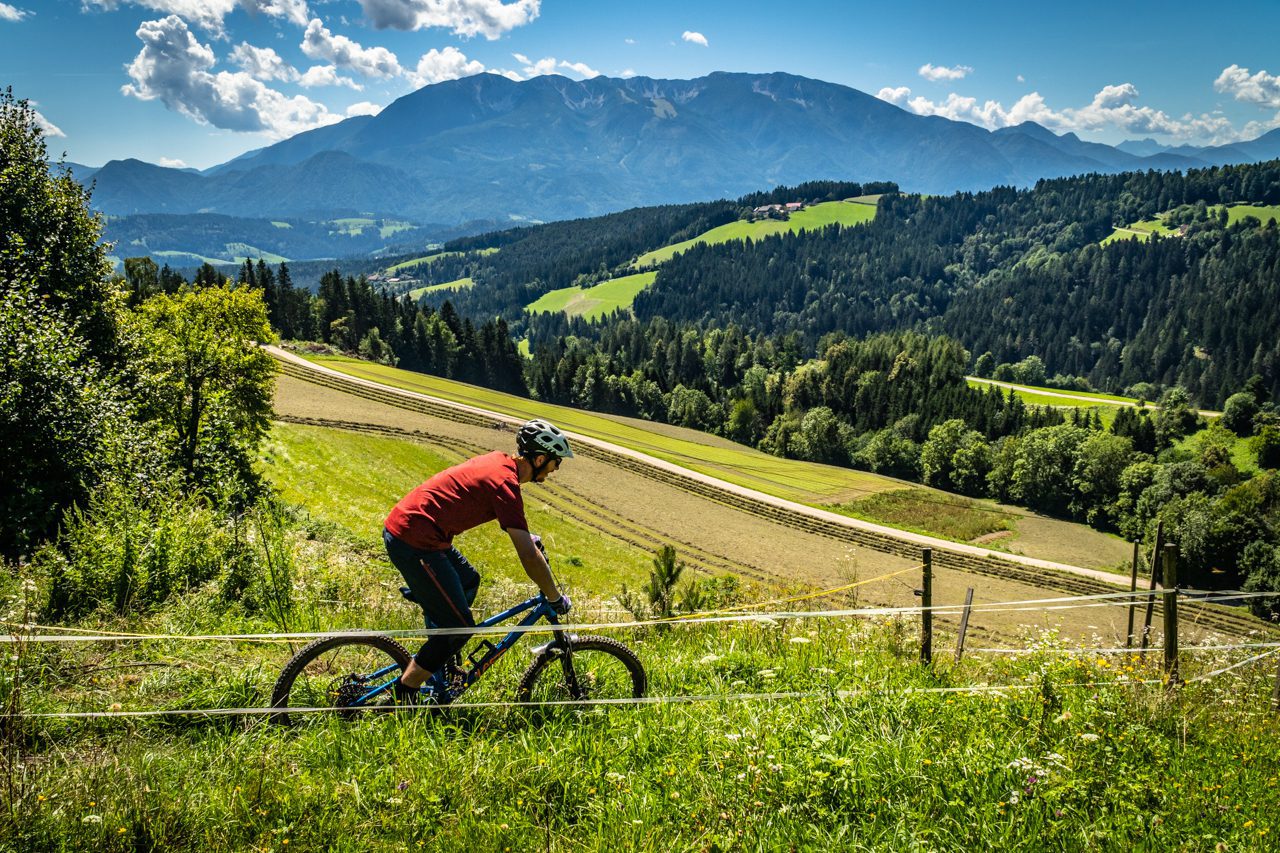 Riding here on the trails, we have the impression that they are not only accidentally routed paths. The greatest appreciation for the builders is the fact, that a few years after building this trails, the most important enduro event in the world, the Enduro World Series, took place here. For me also very important thing was that, even when I rode some variants of trails for the first time, still I was able to keep up good speed and fun on them.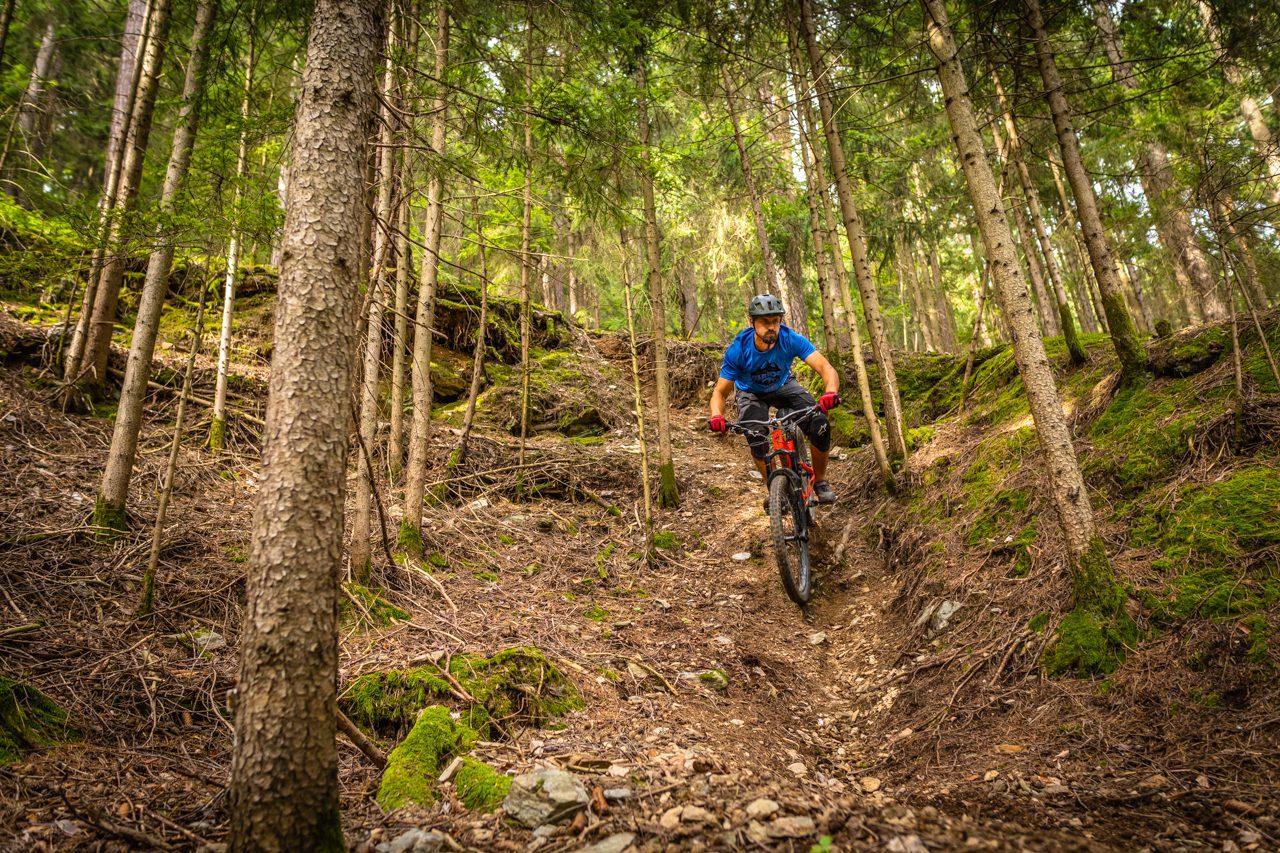 Ekohotel Koroš
It is an old farm converted into a hotel. The place is beautifully situated and the bike trails is strarting from it pretty much in every direction. Everything is prepared here especially for cyclists and has its own unique atmosphere. For example, the bike service and storage room are made in the old barn. You can sleep here in the rooms or camp in the garden. They offer great local food which mostly comes from what has been bred on the farm or its surroundings. It is not very luxurious place, but everything is thought and done, that You as a guest feel comfortable, and spend amazing time out here. At hot summer days, there is small but nice swimming pool. If You want to ride some trails, You can choose to have some warm-up, and do the uphill to the highest point of trails, but You can also go straight down already from the farm. Central location is very convinient, and let me always ride without the need of backpack, or carrying anything, because all the time the hotel is close.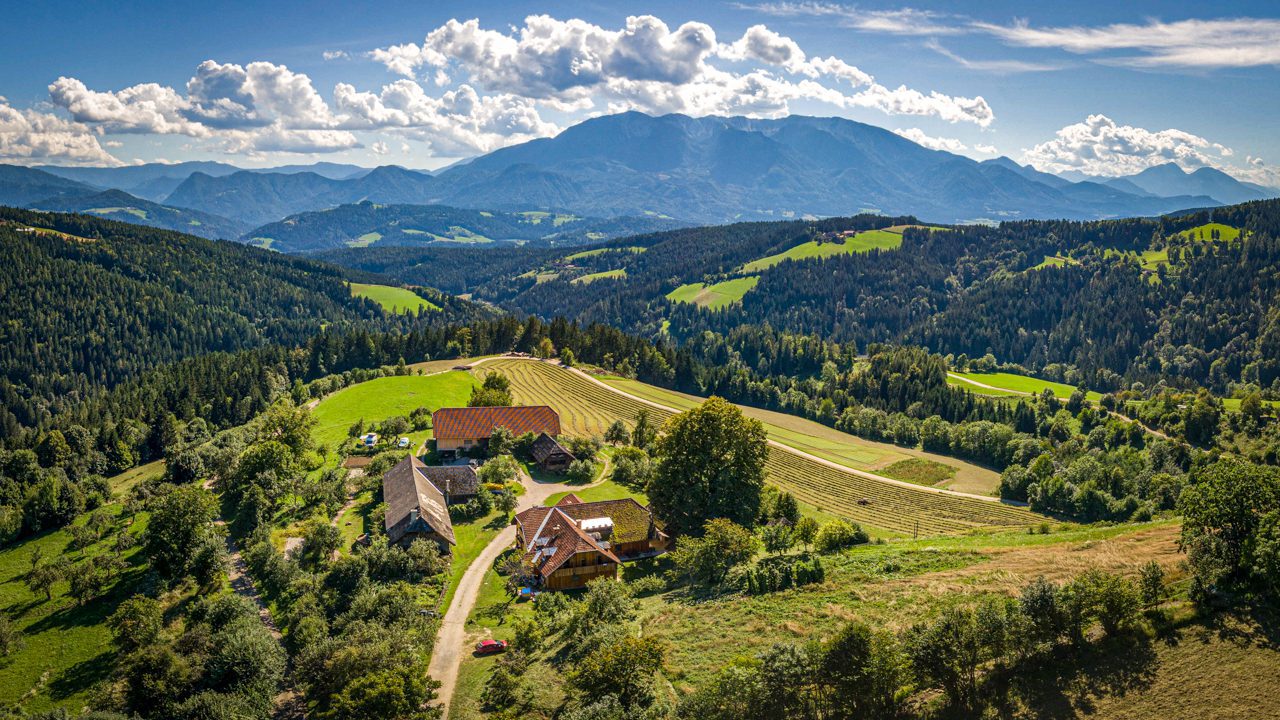 The whole place is made primarily in mind with sustainable development. In the summer season it is very difficult to get here a free spot, but on the other hand, the owners do not want to expand the farm more. Mostly they want to keep in good contact with everyone who visits their place. Nowadays, it is very rarely to see such an approach, where it is more important to maintain balance, and not a continuous rush for even greater profits. This amazing atmosphere of both the farm and the trails, mostly lies in the people who make sure everything is as it should be. And they are …
Mountain Bike Nomad
The main founder, and creator of the trails and hotel in Jamnica is DIXI, who is the true legend of the Slovenian bike scene. It was him who for many years was involved in the organization and promotion of everything related to mountain biking. He founded his first hotel, which was focused mainly on cyclists, already in year 1994! His son – Anej, who is also a licensed bicycle guide, is now helping him. He also looks after the trails in Jamnica and takes care of the nearby bike park in Petzen. What's more, Anej recently created the world's first official underground enduro trail, called "Black Hole Trail" which runs thru a former mine. Bike Nomad is also a whole group of bike guides who can take us to other singletrails in the area. The offer also includes a professional training in biking techniques, bike service, bike rental, and a bicycle clothes shop for all weather conditions.
I reccomend to spend at least a few days over here. If You want to escape from the city, to have some rest, and also to have some good bike ride, then the place is just perfect. Despite the trails in Jamnica, the surrounding woods and mountains have to offer a lot of amazing trails. On the hill right next to Jamnica, there are training trails of Vid Persak, who is the fastest Slovenian enduro rider. 15 km from the farm there is Bike Park Petzen with one of the longest and greatest flow trails in Europe, and other EWS trails. On the same mountain but on Slovenian side there are two famous enduro trails: "The ridge" and "Goat". If You will have some rainy day, than You can always go on the underground enduro trail "Black Hole Trail". There is a lot to do in the closest area. In if You will search a little bit further, then You have also Bike Park Poseka, Bike Park Kope, Bike Park Maribor, or Bike Park Krvavec. I personally spent here more than a month, and if I could, I would happily stay here even longer. Stil I have here a lot of hidden trails to discover. Despite that I had to work here, I've came back full of positive energy. I hope that also this year I will have a chance to go there for some time. I strongly recomend to visit Jamnica, and have a ride on this trails.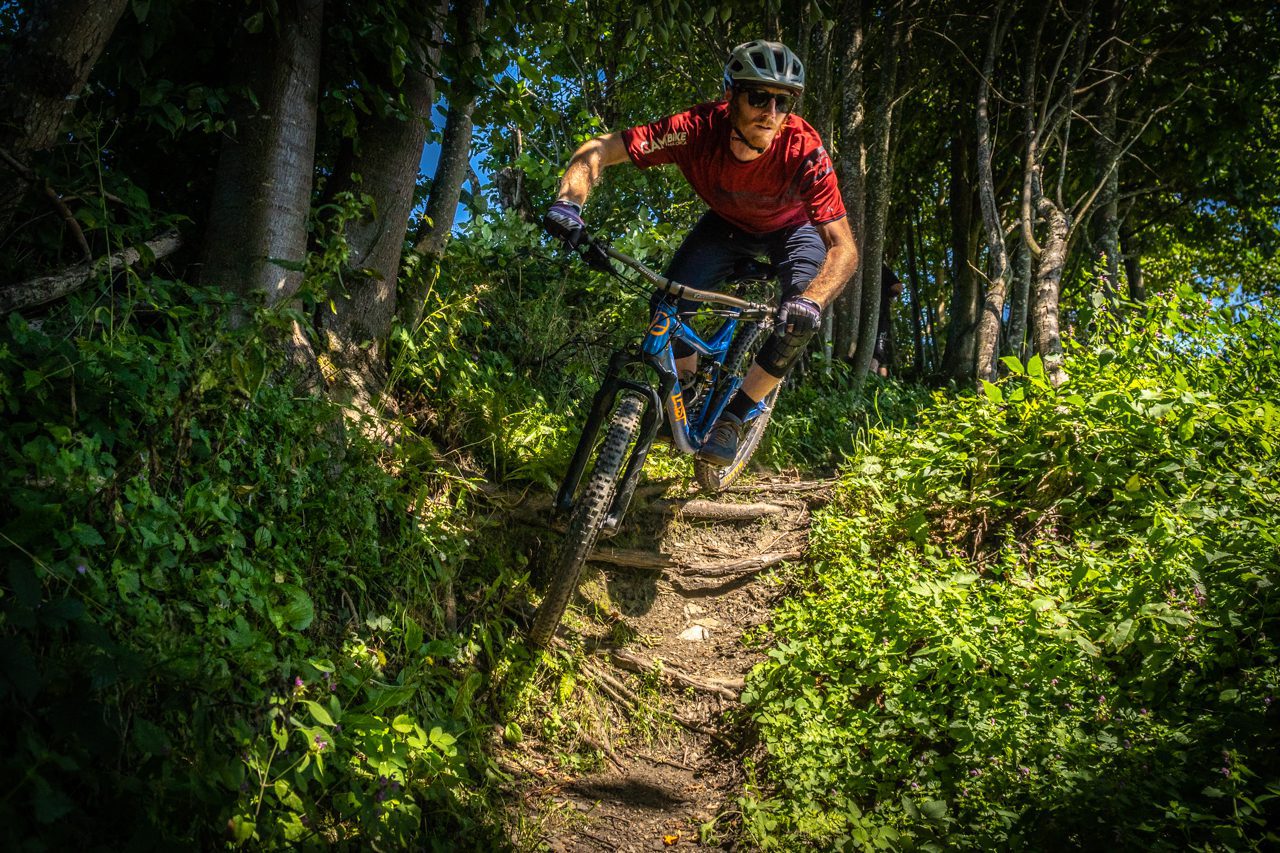 Practical information:
You ride the trails at Your own risk
more than 20 km of prepared trails, and the difference in height between the highest and the lowest point is 515 meters
trails are open all year long
riding on the routes in Jamnica is free, but donations are welcome for their maintenance ;)
the most of trails are intended for advanced bikers

bikes with Trail or Enduro characteristics are the best choice here
we go up on our own, with a special uphill trail or a gentle ascending gravel road

all trails at Jamnica are mostly natural and we will find mainly roots and rocks on them, no specially built jumps or big berms

it is worth coming here for longer and also visit the Petzen Flow Trail, and the "Black Hole Trail"

in the area there is much more ideal paths for enduro biking than on the map, but to find the best we recommend a guided tour

Ekohotel koros is the heart of the trail center and we can find here all the information about them and maps, and if we need it, there is also well-equipped bike service and bike rental

Jamnica is a very small town located in the northern part of Slovenia close to the border with Austria, to find it at all, for example in Google maps, it is best to enter: "ecohotel koros jamnica"

All current information about the trails in Jamnica is available at: bikenomad.com
The article was made in cooperation and with the support of Bike Nomad and the Slovenian Tourism Organization. Thank you!