REKLAMA
Październik powolutku dobiega końca, a wraz z nim kończą się tegoroczne imprezy rowerowe. W ostatni weekend odbyła się finałowa edycja serii LSD – Local Series of Downhill, która symbolicznie zakończyła sezon ścigania się w naszym kraju, a ze światowych imprez została już tylko do rozegrania freestyle'owa impreza w Chinach – FISE Chengdou.
Jared Graves podczas Enduro World Series w La Thuile, 2016
W związku z tym nadszedł czas, aby rozpocząć kompletowanie kalendarza imprez na następny sezon i z radością przedstawiamy pierwsze zestawienie. Odkąd rozpoczęliśmy prowadzenie kalendarza zawodów w 2014 roku, znalazło się w nim mnóstwo imprez. W 2014 zebraliśmy terminy 201 zawodów, rok później było to 175 imprez, a w sezonie 2016 – 210. Ile będzie w przyszłym roku? Zobaczymy!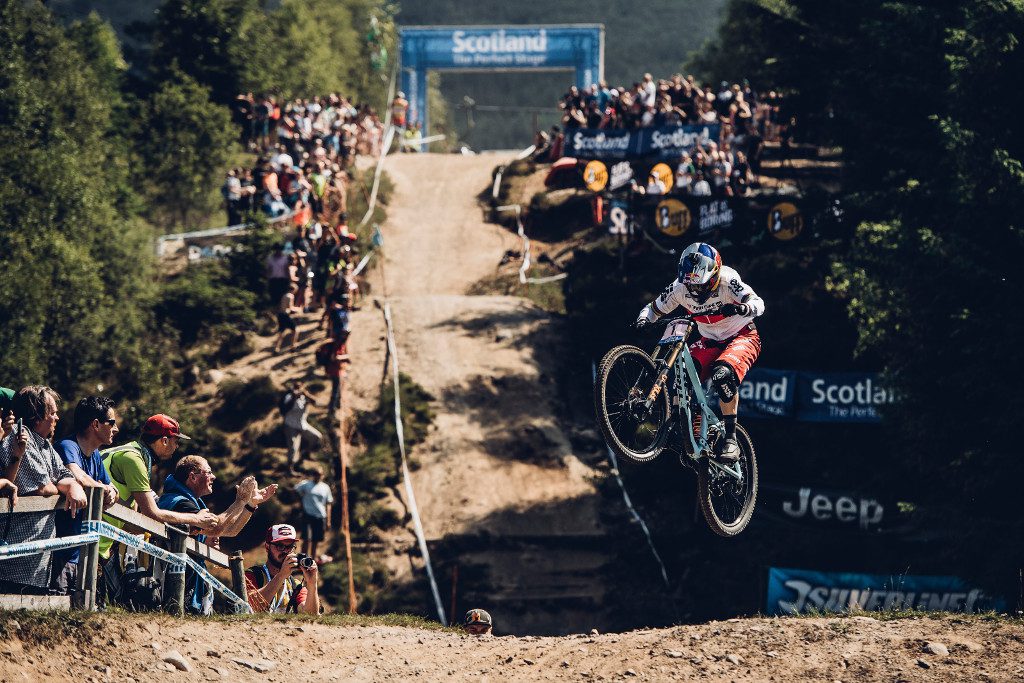 Rachel Atherton podczas Pucharu Świata DH w Fort William, 2016
Na dzień dzisiejszy mamy potwierdzone daty rozegrania takich serii jak Puchar Świata DH, Enduro World Series czy iXS Downhill Cup Ameryki Południowej. Znamy również daty wszystkich czterech festiwali Crankworx, jednak edycja w Innsbrucku ukrywa swoje atrakcje. Także brytyjski puchar DH podał już wstępnie swój kalendarz, ale daty i miejsca mogą jeszcze ulec zmianie. Co dalej? Zaglądajcie do naszego kalendarza na bieżąco, ponieważ co chwilę będą pojawiać się nowe imprezy i dzięki temu z pewnością będziecie na bieżąco.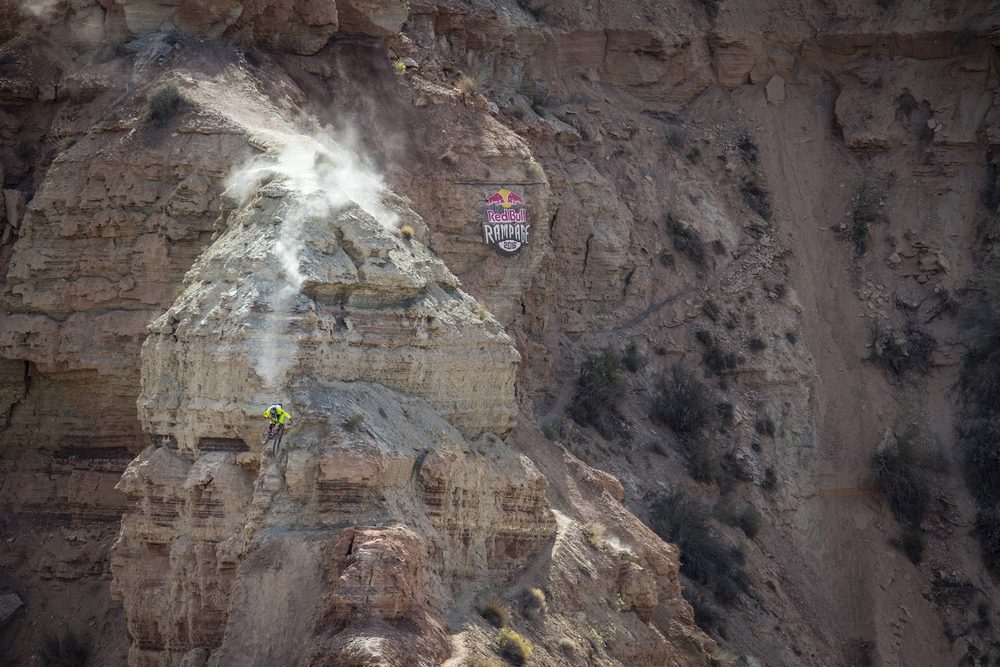 Cam Zink podczas Red Bull Rampage, 2016
Kalendarz imprez rowerowych 2017:
Data
Kraj
Nazwa
Miasto
Strona www
27.01
Austria
White Style
Leogang
bike.saalfelden-leogang.com
28.01
Słowacja
LSD Local Series of Downhill - Snow Downhill
Sihelne, Grúniky
fb.com/Local.Series.of.Downhill
1.02
Australia
Enduro World Series Qualifier: Shimano Enduro Series Garapine
Garapine
emsaustralia.net.au
3-5.02
Argentyna
iXS Downhill Cup Argentina
Cerro Catedral, Bariloche
ixsdownhillcup.la
10-12.02
Chile
iXS Downhill Cup Chile
Nevados de Chillan
ixsdownhillcup.la
11.02
Nowa Zelandia
Enduro World Series Qualifier: Giant 2W Gravity Enduro
Rotorua
2w.co.nz
17-18.02
Polska
Honor Winter Sports Festival 2017 powered by Huawei
Kotelnica Białczańska
wsfest.pl
12.03
Hiszpania
Enduro World Series Qualifier: Vigo Bike Contest
Vigo
vigobikecontest.com
12.03
Wlk. Brytania
British 4X Series #1
Chicksands, Bedfordshire
british4x.com
22-25.03
Tajwan
Targi rowerowe Taipei
Taipei
taipeicycle.com.tw/
25.03
Polska
Diverse NIGHT of the JUMPs
Kraków
fmbworldtour.com
25.03-2.04
Nowa Zelandia
Crankworx Rotorua
- Enduro World Series #1: Giant Toa Enduro
- Rotorua Pump Track Challenge presented by Rock Shox
- Official Oceania Whip-Off Championships presented by Spank
- Mons Royale Dual Speed and Style
- Crankworx Rotorua Air DH
- Crankworx Rotorua Slopestyle in Memory of McGazza
- Crankworx Rotorua Downhill presented by iXS
Rotorua
crankworx.com
enduroworldseries.com
1-2.04
Walia
British Downhill Series #1
Nant Gwrtheyrn, Gwynedd
britishdownhillseries.co.uk
2.04
Polska
II Mistrzostwa Czerwonego Pantofla
Jelenia Góra
facebook.com
8.04
Francja
4X ProTour #1
Roquebrune
4xprotour.com
8-9.04
Australia
Enduro World Series #2: Shimano Enduro Tasmania
Derby, Tasmania
enduroworldseries.com
8-9.04
Polska
LSD Local Series of Downhill #1
Koninki
fb.com/Local.Series.of.Downhill
8-9.04
Chorwacja
SloEnduro #1: Enduro Grozni
Grožnjan
sloenduro.com
16.04
Chile
Enduro World Series Qualifier: Montenbaik Enduro Series
Corral
montenbaikenduro.com
16.04
Wlk. Brytania
British 4X Series #2
Harthill, Cheshire
british4x.com
20-23.04
USA
Subaru Sea Otter Classic
Monterey, CA
seaotterclassic.com
21-23.04
Polska
Warsaw Bike Show
- Extreme Bike Tour #1
- Ptak Warsaw Expo MTB Race
- Ptak Warsaw Expo Road Race
Nadarzyn
warsawbikeshow.eu
22-23.04
Polska
Enduro Trails #1
Bielsko-Biała
endurotrails.pl
22-23.04
Polska
Diverse Downhill Contest: Puchar Polski DH #1
Wisła, Stożek
downhillcup.eu
28-29.04
Szwajcaria
Swatch Rocket Air
Thun
rocketair.ch
29-30.04
Francja
Puchar Świata DH #1
Lourdes
uci.ch
29-30.04
Polska
Hard Downhill League #1: Puchar Polski DH #2
Wierchomla
fb.com/Hard.Downhill.League
29-30.04
Polska
Wąchock Bike Jam
Wąchock
facebook.com
29.04-1.05
Brazylia
Enduro World Series Qualifier: Super Enduro Brazil
Nova Lima
superendurobrasil.com
29.04-1.05
Polska
Bike Town
Przemyśl
biketown.pl
30.04
Słowacja
Moravsko-Slovenský DH Cup #1
Kálnica
moravskoslovenskydhcup.eu
30.04
Włochy
SloEnduro #2: Enduro 3 Camini
Basovizza
sloenduro.com
30.04
Wlk. Brytania
Enduro World Series Qualifier: Datatag UK Enduro Championships
Graythwaite
pmba.org.uk
5-7.05
Słowenia
iXS Puchar Europy DH #1
Kranjska Gora
ixsdownhillcup.com
5-7.05
Szwajcaria
Bike Days
Solothurn
bikedays.ch
5-8.05
Francja
Outdoormix Festival
Embrun
outdoormixfestival.com
6-7.05
Czechy
Blinduro
Lipno nad Vltavou
ceskaenduroserie.cz
6-7.05
Czechy
Moravsko-Slovenský DH Cup #2
Kouty nad Desnou
moravskoslovenskydhcup.eu
7.05
Walia
British 4X Series #3
Afan, South Wales
british4x.com
7.05
Polska
Puchar Polski Pumptrack Battle #1
Rędziny
fb.com/PumpTrackBattle
13.05
Polska
Storm Downhill Contest
Koronowo
stormdownhill.pl
13-14.05
Portugalia
Enduro World Series #3 powered by Freeride Madeira
Machico, Madera
enduroworldseries.com
13-14.05
Szkocja
British Downhill Series #2
Fort William
britishdownhillseries.co.uk
14.05
Polska
Dual City Tour
Cieszyn
fb.com/Dual-City-Tour
19-21.05
Niemcy
iXS Puchar Europy DH #2
Willingen
ixsdownhillcup.com
20.05
Polska
Kellys Enduro MTB Series #1
Srebrna Góra
fb.com/EnduroMTBseries
20-21.05
Polska
Hard Downhill League #2: Puchar Polski DH #3
Kasina Wielka, Śnieżnica
fb.com/Hard.Downhill.League
20-21.05
Czechy
Enduro World Series Qualifier: Central European Enduro #1: Specialized Enduro Race Kouty
Kouty nad Desnou
enduroserie.cz
europeanenduro.com
21.05
Francja
Enduro World Series Qualifier: Enduro Series Raon L'etape
Raon
tribe-events.com
21.05
Norwegia
Enduro World Series Qualifier: 8020 Enduro Series
Nesbyen
8020es.no
21.05
USA
Enduro World Series Qualifier: O-Rock Epic Enduro
Big Cedar, OK
kodiaktough.com
21.05
Włochy
Superenduro #1
Gualdo Tadino
superenduromtb.com
25-28.05
Niemcy
iXS Dirt Masters Festival
- iXS Puchar Niemiec DH #1
- 4X ProTour #2
- Slopestyle
- iXS Specialized Rookies Cup #1
Winterberg
dirtmasters-festival.de
ixsdownhillcup.com
4xprotour.com
28.05
Irlandia
Enduro World Series #4: Emerald Enduro Wicklow
Carrick, County Wicklow
enduroworldseries.com
26.05
Francja
FISE Montpellier
Montpellier
fmbworldtour.com
26-28.05
Polska
Joy Ride BIKE Festival
Kluszkowce
joyridefest.com
27.05
Słowacja
Bike Fest
- Central European Enduro #2: CTM Enduro Race
Kalnica
fmbworldtour.com
europeanenduro.com
27-28.05
Włochy
Mistrzostwa Europy DH
Sesola
uec.ch
28.05
Słowenia
Enduro World Series Qualifier - SloEnduro #3: Enduro Cerkno
Cerkno
sloenduro.com
29.05
Kanada
Enduro World Series Qualifier: Whistler Spring Classic
Whistler, BC
whistlerbike.com
3-4.06
Szkocja
Puchar Świata DH #2
4X ProTour #3
Fort William
uci.ch
4xprotour.com
8-11.06
Austria
Out of Bounds Festival
- Puchar Świata DH #3
- 26TRIX
Leogang
bike.saalfelden-leogang.com
uci.ch
fmbworldtour.com
10.06
Niemcy
Gravity Jump It!
Boppard
fmbworldtour.com
10-11.06
Czechy
Rock Machine Enduro Race Ještěd
Ještěd
enduroserie.cz
10-11.06
Polska
Kellys Enduro MTB Series #2 - Zlot Enduro On-Sight
Przesieka
fb.com/EnduroMTBseries
11.06
USA
Enduro World Series Qualifier: Scott Enduro Cup
Angel Fire, New Mexico
endurocupmtb.com
11.06
Hiszpania
Enduro World Series Qualifier: Cannondale BIG RIDE powered by Rotor
Castejón de Sos
bigrideenduroseries.com
11.06
Australia
Enduro World Series Qualifier: Shimano Enduro Rockhampton
Rockhampton
emsaustralia.net.au
14-18.06
Francja
Crankworx Les Gets
- The Official European Whip-Off Championships presented by SPANK
- Crankworx Les Gets Dual Speed & Style
- Mini-Bikes Challenge By P2V
- Les Gets Pump Track Challenge presented by RockShox
- Crankworx Les Gets Downhill presented by iXS
- Crankworx Les Gets Air DH
- Crankworx Les Gets Slopestyle
Les Gets
crankworx.com
16-18.06
Austria
iXS Puchar Europy DH #3
Schladming
ixsdownhillcup.com
17-18.06
Walia
British Downhill Series #3
Rhyd-Y-Felin, Bala
britishdownhillseries.co.uk
18.06
Polska
Moravsko-Slovenský DH Cup #3
Wisła, Stożek
moravskoslovenskydhcup.eu
18.06
Włochy
Superenduro #2
Canazei
superenduromtb.com
19-24.06
Andora
Mistrzostwa Świata DH Mastersów
La Massana
uci.ch
21-25.06
Austria
Crankworx Innsbruck
- Tiroler Tageszeitung Official Alpine Whip-Off Championships presented by Spank
- Mons Royale Dual Speed & Style
- Raiffeisen Club Pump Track Challenge presented by RockShox
- Crankworx Innsbruck Slopestyle presented by Kenda
- Crankworx Innsbruck Downhill presented by iXS
Innsbruck
crankworx.com
23-25.06
Niemcy
Swatch Prime Line @ Munich Mash
Monachium
munich-mash.com
24-25.06
Polska
Enduro Trails #2: Central European Enduro #3: Giant Enduro Trails
Bielsko-Biała
endurotrails.pl
europeanenduro.com
24-25.06
Słowacja
LSD Local Series of Downhill #2
Sihelne, Grúniky
fb.com/Local.Series.of.Downhill
24-25.06
Niemcy
iXS Specialized Rookies Cup #2
Steinach
ixsdownhillcup.com
25.06
USA
Enduro World Series Qualifier: North American Enduro Cup
Silver Mt. Kellog,
Idaho
naenduro.com
25.06
Wlk. Brytania
British 4X Series #4
Redhill, Gloucestershire
british4x.com
30.06-1.07
Austria
iXS Puchar Niemiec DH #2
Brandnertal
ixsdownhillcup.com
30.06-1.07
Francja
- Enduro World Series #5: Natural Games Millau EWS Driven by URGE bp
- FMB World Tour slopestyle
Millau
enduroworldseries.com
fmbworldtour.com
1-2.07
Polska
Mistrzostwa Polski BMX Racing
Nowa Sól
bmxnowasol.pl
2.07
USA
Enduro World Series Qualifier: Eastern States Cup
Killington, VT
easternstatescup.com
2.07
USA
Enduro World Series Qualifier: China Peak Enduro - CES Golden Tour
Lakeshore, CA
californiaenduroseries.com
1-2.07
Andora
Puchar Świata DH #4
Vallnord
uci.ch
6-9.07
Austria
GlemmRide Bike Festival
- slopestyle
- iXS Specialized Rookies Cup #3
Saalbach
glemmride.at
fmbworldtour.com
ixsdownhillcup.com
8-9.07
Szwajcaria
Puchar Świata DH #5
Lenzerheide
uci.ch
9.07
Polska
Festiwal Rowerowy Bike Week
- Kellys Enduro MTB Series #3
Szklarska Poręba
fb.com/EnduroMTBseries
14-16.07
Niemcy
iXS Puchar Niemiec DH #3
Ilmenau
ixsdownhillcup.com
14-16.07
Francja
Mistrzostwa Europy BMX Racing
Bordeaux
uec.ch
15.07
Czechy
4X ProTour #4
Jablonec
4xprotour.com
15-16.07
Polska
Diverse Downhill Contest: Mistrzostwa Polski DH, Puchar Polski DH #4
Międzybrodzie Żywieckie, Żar
downhillcup.eu
15-16.07
Czechy
Specialized Enduro Race Klíny
Klíny
enduroserie.cz
16.07
Francja
Enduro World Series Qualifier: Superenduro #3
La Thuile
superenduromtb.com
21-23.07
Czechy
iXS Puchar Europy DH #4
Špičák
ixsdownhillcup.com
23.07
Słowacja
Moravsko-Slovenský DH Cup #4
Velká Rača
moravskoslovenskydhcup.eu
23.07
Francja
Enduro World Series Qualifier: Enduro Series Les Orres
Les Orres
tribe-events.com
23.07
USA
Enduro World Series Qualifier: USA Cycling Enduro National
Championships
Snowshoe, W.VA
usacycling.org
25-29.07
USA
Mistrzostwa Świata BMX Racing
Rock Hill, SC
uci.ch
28-29.07
Słowenia
SloEnduro #4: Black Hole Enduro
Ravne-Prevalje
sloenduro.com
28-30.07
Szwajcaria
iXS Puchar Szwajcarii DH #1
Schönried
ixsdownhillcup.com
29.07
Finlandia
Enduro World Series Qualifier: Levi MTB-Enduro
Sirkka
mtb-enduro.fi
29.07
USA
Colorado Freeride Festival
Trestle
fmbworldtour.com
29-30.07
Walia
Mistrzostwa Wlk. Brytanii 4X
British 4X Series #5
Moelfre, North Wales
british4x.com
29-30.07
Walia
British Downhill Series #4
Moelfre, Powys
britishdownhillseries.co.uk
29-30.07
USA
Enduro World Series #6: Big Mountain Enduro Aspen Snowmass
Aspen Snowmass
enduroworldseries.com
29-30.07
Czechy
Specialized Enduro Race Zadov
Zadov
enduroserie.cz
30.07
Czechy
Enduro World Series Qualifier: Enduro X
Sušice
enduroxrace.cz
4-6.08
Austria
iXS International Rookies Championships, iXS Specialized Rookies Cup #4
Serfaus-Fiss-Ladis
ixsdownhillcup.com
5-6.08
Polska
Hard Downhill League #3: Puchar Polski DH #5 /ODWOŁANE
Koninki
fb.com/Hard.Downhill.League
5-6.08
Kanada
Puchar Świata DH #6
Mt. Saint Anne
uci.ch
11-20.08
Kanada
Crankworx Whistler
- Clif Bar Dual Speed and Style
- SRAM Canadian Open Challenger Enduro presented by CamelBak
- Enduro World Series #7: SRAM Canadian Open Enduro presented by Specialized
- Garbanzo DH
- Fox Air DH
- Canadian Open XC
- Official Whip-Off World Championships presented by Spank
- Ultimate Pump Track Challenge presented by Rock Shox
- Giant Dual Slalom
- Canadian Open DH presented by iXS
- Red Bull Joyride Slopestyle
Whistler, BC
crankworx.com



enduroworldseries.com
11-13.08
Niemcy
iXS Puchar Niemiec DH #4
Tabarz
ixsdownhillcup.com
13.08
Hiszpania
O'Marisquino
Vigo
fmbworldtour.com
18-20.08
Szwajcaria
iXS Puchar Szwajcarii DH #2
Wiriehorn
ixsdownhillcup.com
18-20.08
Polska
Cropp Baltic Games - BMX Park
Gdańsk
balticgames.co
19.08
Polska
Mistrzostwa Polski BMX Racing - jazda indywidualna na czas /ODWOŁANE
Jasło
mosir-jaslo.pl
19-20.08
Słowacja
LSD Local Series of Downhill #3
Sihelne, Grúniky
fb.com/Local.Series.of.Downhill
19-20.08
Walia
British Downhill Series #5
Llangollen, Clwyd
britishdownhillseries.co.uk
20.08
Wlk. Brytania
British 4X Series #6
Falmouth, Cornwall
british4x.com
23-24.08
Austria
SloEnduro #5: Enduro Gradec
Graz
sloenduro.com
24-27.08
Włochy
Mistrzostwa Świata 4X
Puchar Świata DH #7
Val di Sole
uci.ch
25-27.08
Szwajcaria
iXS Puchar Szwajcarii DH #3
Verbier
ixsdownhillcup.com
26-27.08
Czechy
Fox Enduro Race Morávka
Morávka
enduroserie.cz
27.08
Niemcy
Enduro World Series Qualifier: 3 Länder Enduro Race
Reschen
27.08
USA
Enduro World Series Qualifier: California Enduro Series - Northstar
Enduro
Truckee, CA
californiaenduroseries.com
27.08
USA
Enduro World Series Qualifier: Cascadia Dirt Cup Chuckanut Enduro
Bellingham, WA
racecascadia.com
30.08-2.09
Niemcy
Targi rowerowe Eurobike
Friedrichshafen
eurobike-show.com
1-2.09
Niemcy
Red Bull District Ride
Norymberga
fmbworldtour.com
1-3.09
Czechy
iXS Puchar Niemiec DH #5
Klinovec
ixsdownhillcup.com
3.09
Wlk. Brytania
British 4X Series #7
Cheltenham, Gloucestershire
british4x.com
3.09
Brazylia
Enduro World Series Qualifier: Brasil Enduro Series
Urubici Santa
Catarina
brasilenduroseries.com.br
4-9.09
Włochy
Suzuki Nine Knights MTB
Reschenpass
nineknightsmtb.com
5-10.09
Australia
Mistrzostwa Świata DH
Cairns
uci.ch
9.09
Polska
Kellys Enduro MTB Series #4
Baligród
fb.com/EnduroMTBseries
9.09
Polska
Downhill City Tour
Ustroń
dhcitytour
9-10.09
Niemcy
iXS Specialized Rookies Cup #5
Oberammergau
ixsdownhillcup.com
10.09
USA
Enduro World Series Qualifier: Eastern States Cup
Charklemont, MA
easternstatescup.com
10.09
Polska
Puchar Polski Pumptrack Battle #2
Rędziny
fb.com/PumpTrackBattle
10.09
Irlandia
Enduro World Series Qualifier: Gravity Enduro
Roundwood
gravityenduro.ie
10.09
Włochy
Superenduro #4
Varano
superenduromtb.com
15-17.09
Austria
Biketember Festival
- iXS Puchar Europy DH #5
Leogang
ixsdownhillcup.com
16-17.09
Wlk. Brytania
British Downhill Series #6
Hopton, Shropshire
britishdownhillseries.co.uk
16-17.09
Czechy
Central European Enduro #4: Giant Enduro Race Špičák
Špičák
enduroserie.cz
europeanenduro.com
17.09
USA
Enduro World Series Qualifier: Kamikaze Bike Games
Mammoth
Mountain, CA
kamikazebikegames.com
17.09
Kanada
Enduro World Series Qualifier: MEC Canadian National Enduro
Championship presented by Intense Cycles
Sun Peaks, BC
bcenduro.com
23-24.09
Polska
Joy Ride Night Downhill
Zakopane, Harenda
joy-ride.pl
23-24.09
Polska
Enduro Trails #3
?
endurotrails.pl
23-25.09
Niemcy
iXS Puchar Niemiec DH #6
Thale
ixsdownhillcup.com
30.09
Polska
Kellys Enduro MTB Series #5
Mieroszów
fb.com/EnduroMTBseries
30.09-1.10
Czechy
Moravsko-Slovenský DH Cup #5
Bílá
moravskoslovenskydhcup.eu
30.09-1.10
Włochy
Enduro World Series #8: Bluegrass Finalenduro powered by SRAM
Finale Ligure
enduroworldseries.com
30.09-1.10
Szwajcaria
iXS Puchar Szwajcarii DH #4
Bellwald
ixsdownhillcup.com
30.09-1.10
Polska
LSD Local Series of Downhill #4
Brenna, Stary Groń
fb.com/Local.Series.of.Downhill
7-8.10
Polska
Hard Downhill League #4: Puchar Polski DH #6
Szczyrk, Skrzyczne
fb.com/Hard.Downhill.League
7-8.10
Austria
iXS Specialized Rookies Cup #6
Innsbruck
ixsdownhillcup.com
8.10
Słowenia
SloEnduro #6: Kamplc Enduro
Ajdovščina
sloenduro.com
8.10
Czechy
Moravsko-Slovenský DH Cup #6
Enduro Race Morava
moravskoslovenskydhcup.eu
14.10
Polska
Mistrzostwa Polski 4X
Szczawno Zdrój
15.10
Niemcy
Enduro World Series Qualifier: Central European Enduro #5: Enduro Treuchtlingen
Treuchtlingen
rcg-weissenburg.de
europeanenduro.com
21.10
Australia
Enduro World Series Qualifier: 2017 MTBA Gravity Enduro National
Championships
Adelaide
mtba.asn.au
22.10
Włochy
Enduro World Series Qualifier: Superenduro #5
Santa Margherita
Ligure
superenduromtb.com
27.10
USA
Red Bull Rampage
Virgin, Utah
redbull.com
4.11
Szkocja
Enduro World Series Qualifier: Kinlochleven Enduro
Kinlochleven
nofussevents.co.uk
26.11
Chile
Enduro World Series Qualifier: Montenbaik Enduro Series
Lugar por Definir
montenbaikenduro.com
3.12
Nowa Zelandia
Enduro World Series Qualifier: Emerson's 3 Peaks Enduro
Dunedin
bikeotago.co.nz
Terminy oznaczone gwiazdką są na dzień dzisiejszy niepotwierdzone. Kontakt w sprawie kalendarza: tomasz@43ride.com